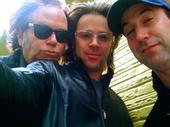 So many bands and musicians offered to play the "Seattle Helping Haiti" benefit concert and auction Thursday night (Jan. 28) that organizers have put together a second show at another venue.
The first event starts at 8 p.m. at the Moore Theatre. The lineup includes Sweet Water, Vince Mira, Mike Herrera of MxPx, The Maldives, The Classic Crime and Memphis Radio Kings.
For more information, go to the "Seattle Helping Haiti" Web site.
The second event, dubbed "Rock4Relief," is the same night at Showbox SoDo. Doors open at 7 p.m. The lineup features The Fixers, Dinosaurs, Thee Sgt. Major III, Bend, Villains of Yesterday and Gunn and the Damage Done. Read more about the event in the West Seattle Funblog.
The Fixers, an all-star Humble Pie cover band, includes Andrew McKeag (The Presidents of the United States of America), Ron Heathman (Supersuckers), Kurt Bloch (The Fastbacks) and Scott Giampino (Cash Money).
Tickets to either concert are $15 each, plus fees. All proceeds from the two events will go to American Red Cross relief efforts in Haiti.