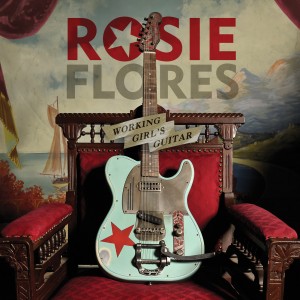 By MIKEL TOOMBS
All the flat-top cats and dungaree dolls will be in rockabilly heaven Tuesday, Oct. 16, at Seattle's Sunset Tavern.
That's where Rosie Flores, long known as the Rockabilly Filly, kicks off her fall tour in support of a new album, "Working Girl's Guitar" (Bloodshot), also due Tuesday. Flores will be joined by Marti Brom, whom Flores has dubbed the "Rockabilly darling," and, oh yeah, the spirit of the late (she passed in 2007) Janis Martin.
The undeservedly obscure Martin, known by the faithful as the Female Elvis (one of her non-hits: "My Boy Elvis"), was championed in the '50s by The Rock-a-Teens ("Woo Hoo," of belated "Kill Bill Vol. 1" fame). They saluted their fellow Virginian on the wonderful "Janis Will Rock."
Martin was rediscovered later by Elvis Costello and then Flores, who not incidentally had a role in reviving the career of the Queen of Rockabilly (and Adele fave), Wanda Jackson. (Jackson, who turns 75 next week, was marvelous at last month's Bumbershoot Festival.)
At the Sunset, Flores and Brom will perform, among other '50s rockabilly gems, songs from Martin's long-awaited, Kickstarter-aided "The Blanco Sessions" (it was recorded in Blanco, Texas), finally out on Cow Island Music.
Flores, whose eponymous '87 debut album is an alt-country classic, wrote via email, "Getting the chance to produce 50's rockabilly legend Janis Martin's last recordings is a major highlight in my life and career.
"Though it took me 10 long years to make that happen and another 4 years to get it out to the public, this labor of love is all worth it now that it's made it into the hands of her appreciative fans new and old."
Learn more about Martin by watching this fascinating video documentary, "The Janis Martin Story":
(EDITOR'S NOTE: Mikel Toombs is a frequent contributor to GeneStout.com. Read his post on Hortlax Cobra's homage to Van Halen here.)