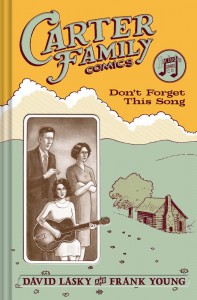 By GENE STOUT
Alternative cartoonists David Lasky and Noah Van Sciver have delved into U.S. history to create two fascinating graphic novels – Lasky's "The Carter Family: Don't Forget This Song" and Van Sciver's "The Hypo: The Melancholic Young Lincoln."
A book signing and exhibition of original art is from 6 to 9 p.m. Nov. 2 at Fantagraphics Bookstore & Gallery, 1201 S. Vale St.
"Don't Forget This Song" tells the story of the Carter Family, the legendary country-music family of the 1920s and '30s. It was written by Seattle's Frank M. Young, a native of The South, in the vernacular of the day and portrays the family's perseverance amid rural poverty, isolation and bigotry, as well as the challenges of unexpected success. Lasky, also of Seattle, rendered the book in full color. It includes a CD of vintage Carter Family radio recordings.
"The Hypo: The Melancholic Young Lincoln" documents the challenges of young adulthood that helped shape the future U.S. president. Lincoln referred to this period of emotional and professional setbacks and depression as "The Hypo."
"Van Sciver's attention to detail and emotive drawing technique combine to create a compelling story of irrepressible ambition overcoming all obstacles – laying the foundation for a figure bound to alter the course of history," Fantagraphics Bookstore & Gallery says in a news release.
Van Sciver will also sign copies of his popular, self-published Blammo "comix."
The book event is part of the Short Run Small Press Fest. Coinciding with the event is an exhibition of work from Seattle alternative comix tabloid, "The Intruder," at the One Night Stand gallery next door.
Visit the Fantagraphics website here.