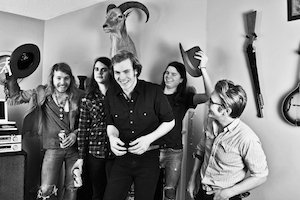 By GENE STOUT
Rock 'n' roll band The Lonely H formed in Port Angeles, Wash., in the early 2000s, but relocated to Nashville in 2010 to seek greener pastures and more opportunity.
The band's self-released, fourth full-length album, "The Lonely H," features a guest performance by the Rolling Stones' sax player, Bobby Keys.
The follow-up to the 2009 album, "Concrete Class (on Seattle-based indie label, The Control Group), pays tribute to such classic rockers as Tom Petty, Bruce Springsteen, Bob Seger, The Eagles and Billy Joel, while complementing such current acts as The Alabama Shakes and My Morning Jacket.
"The album is self-titled because of all the records we've ever made, we think this is the one that represents our live show and musical allegiances the most," singer and keyboardist Mark Fredson says in a news release.
"This is the record where what we heard in our heads made a perfect transition onto record, and self-titling it seemed like the most simple, effective way to represent what we had created."
Listen to the band's new single, "Love Her Always," by clicking on this link.
And visit the band's Facebook page here.