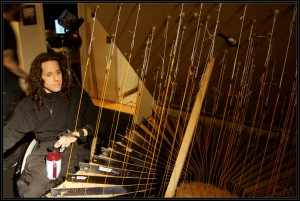 Seattle artist Jesse Higman, recipient of a 2009 Mayor's Arts Award, has designed the album cover for Heart's new disc, "Red Velvet Car." The band's first studio album in six years is due Aug. 31.
A video showing the evolution of Higman's artwork's for the album is featured on YouTube.
Higman, who was paralyzed at 15 by a car accident and wheel-chair-bound ever since, received a degree from Eastern Washington University, where he studied art, English and philosophy.
A fan of Seattle rock, Higman has created custom art for such bands as Alice in Chains, Soundgarden, Candlebox and Pearl Jam. Higman toured with Lollapalooza (when it was a touring festival and not Chicago-bound), and his work has been displayed at Cleveland's Rock and Roll Hall of Fame and Seattle's Experience Music Project.
Higman used hand sketches and 3-D modeling software to create the classic-car grill motif for the Heart album.
"It was a great life-place to be as a designer, to have headphones put onto me and go to the place they created, brainstorm the scene and its meanings with them, to draw, then be able to choose how many photons of light hit the surfaces and how many times they refract off each other," Higman says.
"I made a painting to put into my 3-D modeling world so that the chrome would reflect certain colors. Seeing those reflections pop up everywhere from TV to the sides of buses is surreal."
Higman created his own kind of "action painting" by combining water and shiny mineral flakes he calls Illuvium.
Higman is understandably thrilled to work with Heart.
"Heart always inspired a lot of younger Seattle musicians," he says. "Now, I've been privileged to see how they give life to sound and lyrics. For me, music is always visual, music has always been a place in which I can move and take chances. Plus, they're been like family to me."
Heart's Nancy Wilson is enthusiastic about Higman's work.
"Jesse is my fellow creative companion in Seattle," she says.
"We spend inspired hours talking or typing, sharing our mutual love for art. His world of paint and my world of music integrate on every level: spiritual or symbolic."
View Higman's art work and digital images on his Web site. Heart's Web site can be found here.