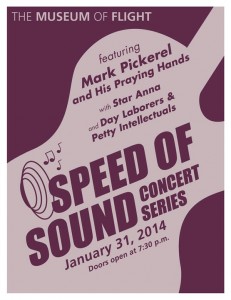 The Museum of Flight Speed of Sound concert series continues Jan. 31 with a three-band lineup of Northwest artists — Mark Pickerel and His Praying Hands, Star Anna, and Day Laborers & Petty Intellectuals.
Mark Pickerel was the drummer for the seminal grunge band, The Screaming Trees, and has played on albums by Mark Lanegan, Brandi Carlile and Nirvana. Star Anna is recognized for her powerful Americana, alt-country music. Six-piece Day Laborers & Petty Intellectuals has delivered their blend of indie rock, folk, punk, country and jazz to Puget Sound venues since 2012.
The Speed of Sound provides a unique club setting with top Northwest bands at modest prices. Food and drink will be sold at the age 21+ event. Tickets $20 general advance, $25 at the door, $15 Museum Members. Doors open at 7:30 p.m., music begins at 8 p.m.
For more information, go to the Museum of Flight website here.
The independent, nonprofit Museum of Flight at 9404 E. Marginal Way, is one of the largest air and space museums in the world, attracting more than 500,000 visitors annually.
The Museum's collection includes more than 160 historically significant aircraft and spacecraft, the original manufacturing facility of The Boeing Co. and the world's only full-scale NASA Space Shuttle Trainer.