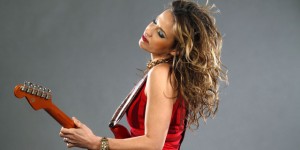 By GENE STOUT
The former Yugoslavia might seem like an unusual place to begin a blues career.
But Ana Popovic, born in 1976 in Belgrade (now the capital of Serbia), was introduced to the blues by her father and began playing guitar at 15. From there, she formed Hush, a four-piece R&B band with elements of soul and funk. By 1998, Hush had done more than 100 performances at blues clubs and festivals and released an album, "Hometown." But the group disbanded after Popovic went to the Netherlands to study jazz guitar.
In 1999, the blues singer and guitarist formed the Ana Popovic Band in Amsterdam. Her career has since been prolific. In 2000, she performed on the Jimi Hendrix tribute album, "Blue Haze: Songs of Jimi Hendrix," along with Taj Mahal, Buddy Miles, Double Trouble, Eric Burdon and others. In 2001, she released her solo debut album, "Hush!" (produced in Memphis, Tenn.)
Last year, she released her ninth full-length album, "Can You Stand the Heat," a collection of old-school blues and funk reminiscent of the music of War, Albert King and Albert Collins. The album spend 10 weeks on the Billboard blues chart, reaching No. 3.
Popovic and her band, who performed more than 130 shows in North America, Europe and Japan last year, will appear at 7:30 p.m. Feb. 4 and 5 at Jazz Alley. Get all the details at the Jazz Alley website here.