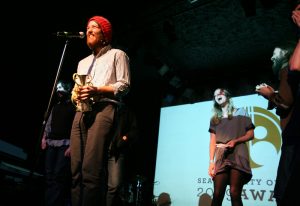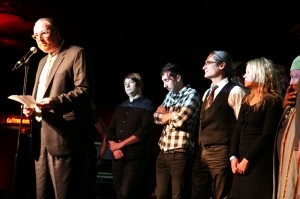 In light of Seattle's spotty history with music-awards shows, it's impossible to predict how long the Seattle City of Music Awards will last.
But Wednesday night's inaugural event at Showbox at the Market suggested that a second annual awards show will be eagerly anticipated next fall.
The Showbox event began with a Hollywood-style, red-carpet stroll by local luminaries, a touch that seemed a bit flashy for the old First Avenue nightclub.
Riz Rollins, known as DJ Riz, boasted about his long history on Seattle's music scene, but was otherwise gracious and good-humored.
The one-of-a-kind awards trophies were designed and created by Dale Chihuly.
Awards were doled out to KEXP-FM (which received the Impact Award for its influence on the Seattle music community), folk-rock band Fleet Foxes (which won the Breakthrough Award) and superstar producer and one-time Seattleite Quincy Jones (who took the Outstanding Achievement Award). Jones' longtime friend and former sideman, Buddy Catlett, made an appearance, and the globe-trotting Jones expressed his gratitude for the award in a pre-recorded video.
During a separate biographical video, the capacity audience was reminded of Jones' first hit as a producer, Lesley Gore's "It's My Party (and I'll Cry If I Want to)." But there were no tears from Jones, who seemed genuinely honored to receive an award from the city where his career began. He advised the audience "to party down."
Mayor Greg Nickels, who launched the Seattle City of Music program last fall to promote the thriving local music industry, stated that the music capital of Austin, Texas, had nothing on Seattle, a point that many would dispute. But Nickels took a few moments to acknowledge the success of the Seattle City of Music program and its crowning event. It surely was a bittersweet moment for the outgoing mayor, who was happy to mark the occasion with a bouyant crowd.
The evening included performances by The Maldives, Zach Tillman of Pearly Gate Music, and the Seattle Repertory Jazz Orchestra.