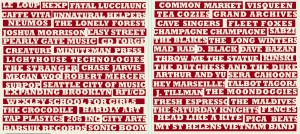 Ben Gibbard, The Moondoggies, D.Black, The Lonely Forest, The Cave Singers and more than 30 other artists or bands are featured on the upcoming GIVE compilation.
The $7 digital music and video compilation, which can be downloaded at Giveseattle.org beginning Nov. 17, will benefit Arts Corps and Seattle food banks. The collection can also be purchased at Caffe Vita shops, Easy Street Records, Sonic Boom Records, University Book stores, The Crocodile and Neumos. The retail outlets will carry GIVE packages, featuring physical cards with a redemption code for the download, as ready-to-give gifts.
The project was conceived and carried out by Caffe Vita, which curated, produced and funded the project. One hundred percent of the proceeds will go directly to the beneficiaries.
The compilation shows how prolifiic, diverse and sophisticated the Seattle music scene has become. Nearly all of the tracks are exclusive to the compilation. Among the other artists are Visqueen (currently exploding with the new album "Message to Garcia"), The Maldives and J. Tillman (featured at the recent Seattle City of Music Awards), Fleet Foxes, Sera Cahoone, The Dutchess and the Duke, The Long Winters, Throw Me the Statue, and Mt. St. Helens Vietnam Band.