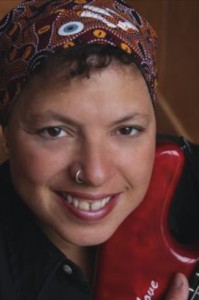 Seattle singer-songwriter Laura Love and her band are the featured performers at the third annual Women in Trades "Dream Big Dinner" Saturday, Nov. 7, at the Lake City Elks, 14540 Bothell Way N.E.
The event celebrates the 30th anniversary of Washington Women in Trades, a community-based nonprofit seeking to improve the economic equity and self-sufficiency of women through access to and success in high-wage, high-skilled careers in the construction, manufacturing and transportation industries.
Love also has something to celebrate — the release of her new album, "The Sweeter the Juice," with guitarist, dobro player and local folk legend Orville Johnson. The Laura Love Band features Chris Leighton, Jen Todd and Rod Cook.
"The Sweeter the Juice" is a lively, inspirational collection of songs, among them "Cotton Eyed Joe/ Ruby (Are You Mad at Your Man)," "King Jesus/ I'm Workin' On a Building," "Swing Low Sweet Chariot/ Swing Down Chariot," "Nobody's Fault But Mine" and "Yes We Can."
Love, known for her thumping bass and powerful yodeling, is going to be struttin' her stuff for this show, in celebration of the new disc.
Love plays a blend of folk, blues, soul and jazz that she once dubbed "Afro-Celtic Appalachian funk." In 1995, Love played Carnegie Hall. Her family history is fascinating; she was 16 when she met her dad for the first time — after growing up believing he was dead. Preston Love had been a saxophonist for bandleaders Count Basie and Johnny Otis. Read about it here.
The evening includes a set by Georgie Kunkel, a World War II "Rosie the Riveter" and one of Seattle's oldest standup comics. The organization also unveils its 2010 calendar and honors its 2009 award winners.
If you've never been to the Lake City Elks, it's an old-school hall that recalls the era of hep cats, Sinatra, martinis and hair spray. Enjoy it before it gets remade into something modern.
Doors open at 6 p.m. for the dinner and show ($60), and 9 p.m. for just the show ($20). Dinner and show for a table of eight is $500.
Tickets can be purchased in advance through Washington Women in Trades; tickets for just the show can be purchased through the Web site, or at Brown Paper Tickets.
Here's a video of Love and Johnson performing one of the songs from the new album: