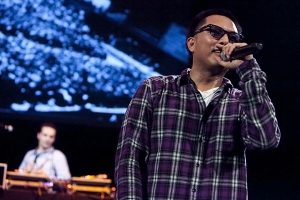 Seattle's Blue Scholars, reportedly the first local rap duo to headline the Paramount Theatre, kicked off the first City Arts Fest Wednesday night. The lineup included Brother Ali, Macklemore and Ryan Lewis, Fresh Espresso, Mash Hall and Tilson (formerly of The Saturday Knights).
Across town, Belle & Sebastian were also celebrating the start of the inaugural festival created by City Arts magazine with a performance at Benaroya Hall.
Seattle music photographer Alex Crick captured the accompanying images of the festival kickoff, where hip-hop fans piled up in front of the stage and pumped fists in a frenzy of excitement during the historic show.
The duo featuring DJ and producer Sabzi and rapper Geo delivered a powerful performance that touched on many social and political themes, but maintained a strong Northwest focus.
Halfway through the set, Sabzi walked to the edge of the stage and recounted a story about attending a performance of "West Side Story" with his mom when he was 8. Thrilled to be performing on the same stage, Sabzi recalled that he had to watch the musical from the nosebleed section, "Way up there!" The crowd responded with a loud cheer.
The inaugural Heineken-sponsored festival continues through Saturday (Oct. 23) with music, theater, dance, readings and recitals at a variety of local venues. You'll find the schedule here.
For a preview of the ambitious City Arts Fest, click here.