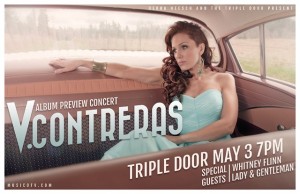 By GENE STOUT
Seattle singer V. Contreras (a.k.a. Victoria Wimer Contreras) is known to local music fans as a vocalist with the Seattle Rock Orchestra, as well as featured performer at the Patsy Cline "Sweet Dreams" tribute several years ago and as a singer of the National Anthem at Seattle Mariners, Seahawks and Sonics games, where her powerful vocals have thrilled sports and music fans.
Contreras (who often simply calls herself "V") is now releasing her own album of original songs — produced, engineered and mixed by Martin Feveyear (who has worked with Brandi Carlile, Loaded, the Blue Scholars and Common Market). String and horn arrangements were done by Andrew Joslyn (Macklemore/ Passenger String Quartet). Guest musicians include Joslyn, Jeff Fielder, Rusty Willoughby, William Stover and Rebecca Young, as well as Natalie Mal Hall, Eric Padget, Tom Yoder and Craig Flory.
Contreras' website (which evokes the "Mad Men" era through cars and fashion) describes her as "the love child of Dusty Springfield and Nancy Sinatra, with a splash of The Ronettes and a huge dose of lyrical now-ness."
A music video of the as-yet-untitled album's first single, "Lush," has already been released, and it's lush indeed, with stylish scenes that evoke the Prohibition Era. Contreras is alternately sultry and sassy, and her rich voice soars. The song's infectious melody will keep you coming back for more. "Now I recall the day my lips met Chardonnay/ And my mother said the love is in my blood," she sings in the second verse. ("Lush" is available on iTunes; the album is due this summer.)
Contreras (along with a 15-piece orchestra featuring The Andrew Joslyn Phil Harmonic, as well as musicians from the album) will preview her new album at a party at 7:30 p.m. Friday, May 3, at the Triple Door. Tickets start at $15 a person. Get all the details here.
To learn more about Contreras, visit her website.