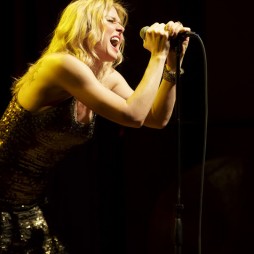 By MIKEL TOOMBS
Our Doppler radar shows that a Storm Large will hit Benaroya Hall in downtown Seattle at 7:30 p.m. on Friday, May 3.
Yes, Portlandia's Large, a "Rock Star: Supernova" survivor who of late has been filling in for Pink Martini singer China Forbes, claims the Best. Pacific. Northwest. Name. Ever. Now, she's performing, with orchestral backing, here with the Oregon Symphony Orchestra and on May 9 with the Detroit Symphony Orchestra, at New York's Carnegie Hall (!).
And how do you (Storm) get to Carnegie Hall? Why, by performing Kurt Weill's "Seven Deadly Sins," as she will at Benaroya Hall, as well.
Here's a clip of the trailer for the documentary, "How Do You Get To Carnegie Hall?" It's a work-in-progress by award-winning filmmaker (and Large's "sister from another mister"), Stephanie Smith:
Get the details about the Benaroya concert here.
Learn more about Storm Large by visiting her website.
(EDITOR'S NOTE: Mikel Toombs is a frequent contributor to GeneStout.com. Read his recent post about Star Anna here.)