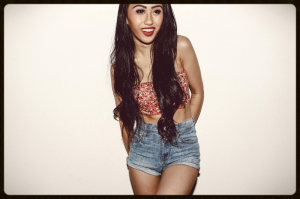 By GENE STOUT
Seattle-based singer-songwriter Jessica Domingo pays a visit to the Crocodile Café Sunday, Nov. 23, for a showcase of her latest music.
Domingo shares the bill with Hawaiian singer-songwriter Anuhea and Tribal Theory, a San Diego group with Pacific Island roots. The triple treat promises a great evening of music with an island vibe.
The pop-soul artist recently finished a new EP, "Masterpiece," which she'll release in January. Her current album is the full-length "Just Vibe" album. Among her YouTube performances is a cover of Frank Ocean's "Thinking About You," which has racked up more than 2 million views.
One of Domingo's mentors is Seattle producer Don Quijano, who "was by my side at every performance," she says, teaching her guitar, providing music industry guidance and giving her tips for working onstage and in the studio. The pair's collaboration resulted in the EP, "Take A Chance."
Jessica has been featured on Fanlala and her latest music video, "Music," recently premiered on GroundSounds.
Learn more about Domingo and listen to her tender, delicate version of Bob Marley's "Is This Love" at her official website.
And read her bio and get the details about her show at the Crocodile here.