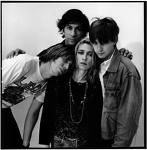 Sonic Youth tops the lineup for the 2009 Capitol Hill Block Party July 24-25 in the heart of the Capitol Hill business district.
The two-day festival is a eclectic showcase of national and local performers in various musical genres. It's truly reflective of the city's musical diversity.
Among the bands scheduled to perform are The Jesus Lizard, The Gossip, The Thermals, Moondoggies, The Blakes, the Dutchess and the Duke, Hey Marseilles, The Maldives, Akimbo, New Vaces and Japandroids.
"Early Bird" tickets can be purchased May 1-15 at Tickets West, Rudy's Barber Shops, some QFC stores, Moe Bar at Neumo's or by phone at 800-325-SEAT.
If you're looking to stock up on Sonic Youth albums, the Silver Platters store on lower Queen Anne has a huge selection of past and present albums by the punk rock icons.