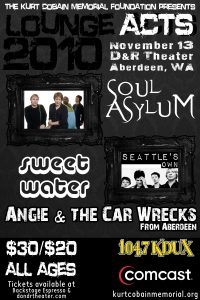 Grammy winners Soul Asylum and Seattle band Sweet Water headline Lounge Acts 2010, a fourth annual Kurt Cobain Memorial Foundation benefit concert Nov. 13 at the renovated D&R Theatre in Aberdeen, Wash.
Tickets to the all-ages concert are $20-$30 at the historic theater's Web site. All proceeds will go to the foundation, which plans to open a youth center in Cobain's hometown.
Joining Soul Asylum — known for such songs as "Black Gold," "Misery" and "Runaway Train" — and Sweet Water is local band Angie and the Car Wrecks, of Montesano.
In April 2005, on the 11th anniversary of the Nirvana lead singer's death, the foundation erected a large sign on the east side of Aberdeen, reading "Welcome to Aberdeen: Come As You Are," after one of band's early hits.
For additional information, visit the foundation's Web sites here and here.