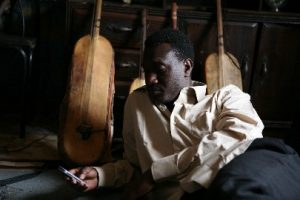 Seattle's Sub Pop Records and KEXP 90.3 FM radio host Jon Kertzer have formed a new world-music label, Next Ambiance.
Kertzer, creator and longtime host of KEXP's "The Best Ambiance" world-music show, and Sub Pop have chosen "I Speak Fula," an album by Mali's Bassekou Kouyate and his band, Ngoni ba, to be released in digital form on iTunes Dec. 1 and Feb. 2 on CD on the new imprint.
Kertzer's show has been a long-running favorite of fans of African music.
"I've listened and learned so much from Jon's show for half my life," Sub Pop Records co-founder Jonathan Poneman said. "It just seemed natural to put his knowledge, resources and remarkable taste to further use."
Kouyate is a master of the ngoni, an ancient traditional lute found throughout West Africa. The instrument has a warm, mesmerizing sound.
Kouyate was born in the village of Garana, about 40 miles from Segu, in the remote countryside on the Niger River. Musician Taj Mahal has called him "a genius, living proof that the blues comes from the region of Segu."
"I Speak Fula" will be released in North America, Australia and New Zealand, but subsequent releases may take time. The album was previously released only in the United Kingdom on Out / here records.
Meanwhile, Bassekou Kouyate and his group will tour the U.S. with Bela Fleck. The tour will include a concert March 16 at the Triple Door (the show is not yet listed on the club's calendar). The tour will also stop at the Vancouver, B.C., Olympics March 14 and 15.
This week, Sub Pop also re-issued Nirvana's debut album, "Bleach," on the 20th anniversary of its original release.