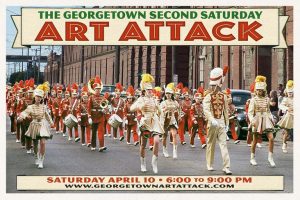 How many horns can you pack into the Seattle city limits?
We'll find out when Honk! Fest West blasts into town the weekend of April 9-11. It's the third annual festival of "acoustic, mobile street bands" from across North America, and there's no admission charge.
How could you not love this? It's wacky, it's alternative, it's eccentric, it's old school. It's the music of John Phillip Sousa on steroids. (In a sense, Sousa was the world's first international "rock star," touring Europe three times, and much of the world, before 1911; he was known as "The March King.")
Featured are the Hungry March Band of Brooklyn, N.Y.; Emperor Norton's Stationary Marching Band of Sommerville, Maine; the Extraordinary Rendition Band of Providence, R.I., and many others. More than 20 bands will perform.
More than half the bands are from the Pacific Northwest, among them the Seattle Seahawks Blue Thunder Drumline (which performed with Alice in Chains last summer at Seattle Center), the Garfield High School Bulldog Drumline and the Artesian Rumble Arkestra of Olympia.
The bands will perform from 5-10 p.m. April 9 at the Fremont Neighborhood Block Party, 10 a.m. until sometime in the evening April 10 at Washington Hall in the Central Area, and 6-10 p.m. in downtown Georgetown. Get all the details here.
In Georgetown, Honk! Fest West is part of the April 10 Second Saturday Art Attack, a colorful festival featuring art exhibitions, open art studios, performances, workshops and demonstrations.
Among the programs are Arun Sharma's "(de)composition" autobiographical sculpture and film installations at the Georgetown Arts and Cultural Center, open salons at Equinox Studios (including a blacksmithing demonstration by Lisa Geertsen and studio sale at Firelight Forge); Dano Quinn at Full Throttle Bottles creating custom switch plate covers out of "tall-boy" beer cans on site; a "High Soft Lisp" comics exhibition by Gilbert Hernandez with experimental music by Zinjanthropus and Ardent Vein at Fantagraphics Bookstore & Gallery and Georgetown Records; and "Circus Art" from members of the Twilight Artist Collective at the Stables.
The Georgetown Second Saturday Art Attack is a monthly production of the Georgetown Merchants Association. For more information, follow this link.
By the way, the image in the Art Attack poster at the top of the page is a vintage photo of a marching band in Georgetown taken decades ago.
Here's a video of Artesian Rumble Arkestra: