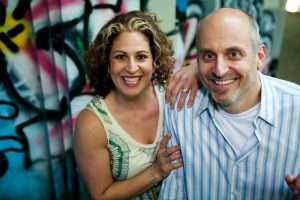 How cool is this? The Marty Riemer Show returns at 9:30 a.m. tomorrow (April 1) with a new daily podcast and webcast.
Get all the details here.
How appropriate that the comedic duo is returning on April Fools' Day. But this is no prank.
"After over 25 years in commercial radio I am drop-dead excited to venture into this new, free-form medium," Riemer wrote in an email.
"At times it seems a little insane, especially when I contemplate making a living, but overall I'm thrilled by the prospects AND by the support we've gotten."
In a blog today on MartyRiemer.com, Riemer writes: "Perhaps it's our anal-retentive nature (or perhaps it's a ploy to work the word 'anal' into every Web site post), but before we go live with this baby we feel the need to test the podcast system one last time.
"After this we expect sheer technical perfection! While the show itself will still be mediocre at best."
It's an exciting new chapter for Riemer and Brothers, whose popular morning show on KMTT, 103.7 FM, was canceled last September. With the support of their Facebook friends, the pair staged a comedy festival in January at the Paramount Theatre. Read about it here.