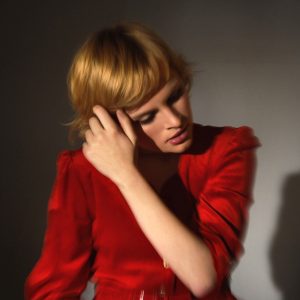 By MIKEL TOOMBS
Bumper sticker recently spotted in Seattle's Phinney Ridge neighborhood: "FLEE BALLARD." (That car hadn't gotten far.)
No matter how trendy it's become, the venerable once-city is still home to establishments that honor its principally Scandinavian heritage. And one reason to head back to Ballard is the Tractor Tavern, which in April moves beyond its typical Americana fare (oh, there'll be plenty of that) to showcase engagingly quirky (and at times Bjork-y) Icelandic singer Olof Arnalds (April 13). Return four nights later for a trio the club bills as "Swedish hiphop/swing," MOVITS! (whose No. 1 U.S. fan is Stephen Colbert). (You can stream their upcoming album, "Out of my head," at www.ColbertNation.com).
For ticket information about Arnalds' show, click here.
Also on the foreign front, if closer to home, the Tractor presents back-to-back nights of Canadiana with indie rockers The Rural Alberta Advantage April 10 (too bad the band isn't double-billed with The Wilderness of Manitoba) and Gord Downie on April 11.
Downie, frontman for The Tragically Hip, is described as a "lush and charming singer/songwriter," which seems a bit unfair. He may drink a bit, but — oh, I get it.
Getting back to the Tractor's own roots, and of more immediate interest, is the Tuesday date (April 5) for The Baseball Project, a diamond of a supergroup. (And how much more Americana than baseball can you get? None. None more Americana.)
Seattle legends Scott McCaughey and Peter Buck (their band, The Minus 5, is second-billed) are joined by Steve (Dream Syndicate) Wynn (he opens) and Linda (Golden Smog) Pitmon on "The Baseball Project, Volume 2: High and Inside."
The new album, which features guest turns by Craig Finn (The Hold Steady), Ben Gibbard (Death Cab), Steve Berlin (Los Lobos), Ira Kaplan (Yo La Tengo) and Chris Funk and John Moen of The Decemberists, includes titles such as "Chin Music" and "Buckner's Bolero," as well as tributes to the likes of Reggie Jackson ("The Straw That Stirs the Drink"), Mark "The Bird" Fidrych ("1976," his miracle season) and to another Seattle icon, on "Ichiro Goes to the Moon."
Check out this Baseball Project video of "Harvey Haddix."
Follow this link to Arnalds' Web site.
For the complete Tractor Tavern schedule, click here.
(EDITOR'S NOTE: Mikel Toombs is a frequent contributor to GeneStout.com. Read his recent story on Lauren Pritchard here.)