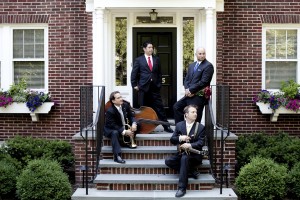 By GENE STOUT
The Beach Boys' vocal harmonies were inspired in part by one of the most popular male vocal groups of the '50s, The Four Freshmen.
The group's first hit, released in 1952, was "It's a Blue World," followed by "Mood Indigo" (1954), "Day By Day" (1955) and "Graduation Day" (1956). The group's dreamy pop harmonies were a counterpoint to the rambunctious blues and rock 'n' roll of the era – and they caught the ear of a young Brian Wilson (especially the song "Day by Day").
"I have loved the Freshmen's harmonies since the first time I heard them," Wilson said during the Beach Boys' 50th anniversary tour.
Of course, the current lineup of Freshmen — Bob Ferreira, Curtis Calderon, Vince Johnson and Brian Eichenberger — is entirely different from the original group (discovered by bandleader Stan Kenton at a small club in Dayton, Ohio) that included founding member Bob Flanigan (1926-2011).
In fact, it's the 22nd configuration of the group, which recently released a new album, "The Four Freshmen: Love Songs."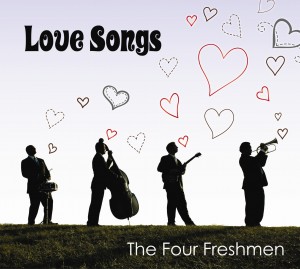 Ferreira, Calderon, Johson and Eichenberger have been together more than 10 years, so they've had plenty of experience recreating the original sound. The group is celebrating its 65th anniversary this year.
The group's repertoire includes a slew of pop and jazz standards, among them "It's a Blue World" and "Poinciana." The new album features such songs as "Stardust," "Body and Soul," "On the Street Where You Live" and "A Nightingale Sang in Berkeley Square."
The famous foursome has won a number of accolades in the past. In 2001, the group was inducted into the Vocal Group Hall of Fame.
The Four Freshmen perform two Seattle-area shows next week. The first is at 7:30 p.m. Nov. 23 at the Admiral Theater, 515 Pacific Ave., Bremerton; 360-373-6743. Get all the details at the Admiral website here.
The second show is at 7:30 p.m. Nov. 24 at the Kirkland Performance Center, 350 Kirkland Ave., Kirkland; 425-828-0422. Details can be found at the Kirkland Performance Center website.
Read more about The Four Freshmen here. And watch a video of the group singing "Angel Eyes":