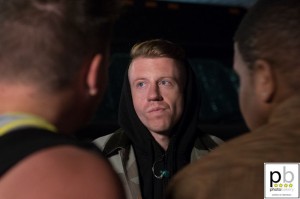 By GENE STOUT
With seven award nominations for Seattle rap duo Macklemore and Ryan Lewis, tonight's 56th annual Grammy Awards could be a year of record winnings for a local group.
It may also be a stellar year for rap and hip-hop in general, with Macklemore and Lewis, Kendrick Lamar, Jay-Z and others nominated for big awards.
Last year, Macklemore and Lewis self-released "The Heist," which produced two No. 1 singles on the Billboard charts without the backing of a major label.
The duo's third single, "Same Love" (with Seattle singer-songwriter Mary Lambert featured in the chorus), has become an anthem for same-sex love, and it has changed the sound of hip-hop. The song is nominated for Song of the Year.
Other nominations for Mackelemore and Lewis are Best New Artist, Album of the Year and Best Rap Album (for "The Heist"), Rap Performance and Best Rap Song ("Thrift Shop") and Best New Video (Can't Hold Us") with Ray Dalton.
In an interview with the Associated Press, Macklemore said he believes Kendrick Lamar deserves the Grammy for Best Rap Album (for "Good Kid, M.A.A.D City"). But he also thinks "The Heist" has a good shot at it.
"I think that we made a great album that pushed the genre of hip-hop," Mackelmore said in an AP interview.
"I think that hip-hop can be at times resistant to change and when you see two white dudes from Seattle, Washington, rapping about gay marriage, it's like, 'Hold up, this isn't hip-hop,' when in actuality it is. Hip-hop has always been about expansion, about pushing the genre, about challenging the listener."
For a complete list of Grammy nominees, click on this link.
And read an interview with producer Ryan Lewis here.