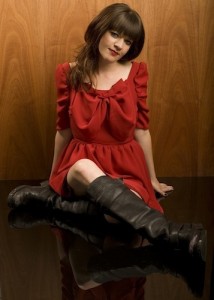 By GENE STOUT
On Saturday night, Jan. 25, Seattle singer-songwriter Shelby Earl celebrates the vinyl release of her 2013 album, "Swift Arrows," with a show at the Tractor Tavern.
The collectible LP (on Spark and Shine Records) will be an eye-popping pink, sure to stand out in anyone's record collection.
In 2013, Earl had the kind of year so many artists dream of — the enthusiastic support of her many fans, glowing reviews of her new album, "Swift Arrows"; and the premiere of a video of the album's title track in Rolling Stone magazine.
The new album, released last summer, also received kudos from The Seattle Times, Paste, eMusic, No Depression and Consequence of Sound, as well as radio stations KEXP, KIRO and KUOW. "Swift Arrows" followed the release of Earl's debut solo album, "Burn the Boats."
I loved the new album so much that I included it on a list of my 10 favorite albums of the year in The Seattle Times. Read the story here.
Produced by Damien Jurado in eight days, "Swift Arrows" is a raw, emotional album with a big heart. Songs blend pop, folk and Americana into a captivating package highlighting Earl's warm, expressive vocals, which lend a bright, hopeful tone to lyrics that can be somber and blue.
"The Artist" sounds like a delightful throwback to the Del Shannon era of stinging romantic retorts delivered with pop flair. "I remember when you used to share the mirror," she sings, "I love you . . . you love you too."
In an interview with Rolling Stone in November for the premiere of "Swift Arrows," Earl talked about the theme of the song: " 'Swift Arrows' is about the experience of being hurt by someone you once trusted and coming out of it a warrior, rather than a victim. It's also about our very human desire for revenge and the inclination to fire 'swift arrows' at those who've caused us pain, rather than choosing to heal and move on."
In mid-December, Earl joined the Lonely Forest, Helio Sequence, Allen Stone and rap star Macklemore at a Seattle Children's Hospital benefit concert at Showbox at the Market. It was special night for a great cause, capping a year of milestones.
The person most appreciative of the past year is Earl herself.
"I have felt so supported and believed-in by so many of you, and I sit here now — in my cozy, Christmas-decorated house — overwhelmed by gratitude," she said in a blog post last month.
"You've sent me kind (and) encouraging words, you've bought the record, you've come to shows, you've helped spread the word about my music in reviews and stories and blog posts and I have been awestruck by all of it. So thank you — sincerely — for the super-important role you play in my life and my career."
Earl begins a series of winter dates with a show Monday, Jan. 27, in St. Louis. The trek makes stops in Rock Island, Ill. (where singer-songwriter Lissie, who recently performed at The Crocodile, grew up), as well as Evanston, Ill.; Newport, Ky. and Lexington, Ky.
Get all the details about Earl's show at the Tractor here. The evening includes sets by Smokey Brights and The Local Strangers.
Learn more about Earl by visiting her website here.