By GENE STOUT
Whether you're a hobbyist wine blogger or a professional publicist in charge of social media and promotions for a commercial winery, the annual Wine Bloggers' Conference is a whirlwind weekend for people who love wine.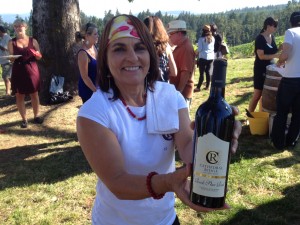 The 2012 Wine Bloggers' Conference – the fifth such event since the inaugural conference in April 2008 – drew 350 attendees Aug. 16-19 to the Doubletree By Hilton on Multnomah Street near Portland's Lloyd Center.
With fond memories of the 2010 Wine Bloggers' Conference in Walla Walla, Wash., I paid the full registration fee for a super-fun and informative weekend geared to wine geeks. My interest in wine began years ago, but turned more serious with my enrollment at the Northwest Wine Academy at South Seattle Community College, where I earned a certificate last year in wine marketing and sales. The conference was also a nice diversion from my usual obsession with music. And having my wife along for the weekend made for some wonderful shared wine experiences.
Highlights of the conference included a keynote speech by Randall Grahm (the storied winemaker and author of "Been Doon So Long: A Randall Grahm Vinthology"), a keynote interview with Rex Pickett (author of the novel "Sideways," which was made into the hit 2004 hit movie about two bachelors in California wine country), samplings of hundreds of wines (including more Oregon Pinot Noir than anyone could drink – or taste), two sumptuous wine-and-food-pairing dinners, and a magical mystery tour of local wineries in which conference attendees were split into small groups to travel by motor coach into Oregon wine country, without prior knowledge of where they were going. The winery excursions happened the afternoon and evening of Aug. 17, when the mercury soared to more than 90 degrees.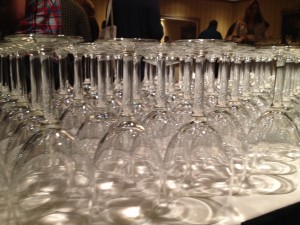 My group of 27 conference attendees was lucky enough to wind up in Hood River, Ore., for a wine tasting and dinner at Phelps Creek Vineyards, where the view of snow-covered Mt. Hood was spectacular. After disembarking from the bus, we rode several hay wagons up a steep road to the family owned, hilltop winery, where the staffs of five local wineries greeted us: Phelps, Viento Wines, The Pines Vineyard, Cathedral Ridge Winery (makers of the robust Rock Star Red shown above) and Naked Winery. Their hospitality, as well as the quality of food and wine, exceeded expectations. Host of the event was the Oregon Wine Board.
Wines included some terrific examples of Gruner Veltliner, Viognier, Chardonnay, Pinot Noir, Zinfandel, Barbera, Tempranillo and Gewurztraminer ice wine, as well as a remarkable dinner prepared by Portland's Din Din Supper Club & Catering, owned by chef Courtney Sproule. The dinner began with lobster mushroom carpaccio and sautéed chanterelle with Treviso and Sakura Ridge pickled currant, paired with a flight of excellent wines, including the 2010 Viento Gruner Veltliner, 2009 Naked Complicated Viognier and the 2009 Pines Vineyard Viognier. The five-course dinner continued with Reister Farms lamb loin, braised beef short rib and Fern's Edge goat cheesecake with peach licorice coulis (paired with excellent ice and dessert wines). The wineries and catering staff received several rounds of applause for pulling off a such a wonderful evening.
An even more lavish (and heavily promoted) dinner was offered Aug. 18 at the hotel banquet room, where King Estate (located southwest of Eugene, Ore.) brought its chefs and staff for a red-carpet feast. The effort was led by executive chef Michael Landsberg. The dinner's ingredients were locally sourced from such suppliers as Knee Deep Cattle Company and Fern's Edge Goat Dairy.
In a statement preceding the lavish dinner, King Estate director of marketing Sasha Kadey said, "We want the bloggers to know we at King Estate think they are important to the wine industry because they are supplementing and even sometimes supplanting the traditional wine press."
Diner/bloggers tweeted throughout the tasting and dinner, creating a Twitter tsunami that scrolled on two large screens. Highlights of the dinner included Salad of Fennel (featuring heirloom tomato, grilled corn and duck breast prosciutto) paired with a crisp 2011 NxNW Horse Heaven Hills Riesling and Wild Chinook Salmon (with garlic sausage, potato gnocchi, buttered leeks and aged balsamic vinegar) paired with a 2010 King Estate Signature Pinot Noir. Visit the King Estate website here.
Watch chef Landsberg create the Salad of Fennel:
Other food-and-wine highlights included an Argentine brunch (with tango dancers) presented by Winebow, the Night of Many Bottles (a BYOB wine tasting), a new-wines-of-Greece tasting, and lunch with the Conseil Interprofessionnel des Vins du Languedoc. At the Argentine brunch, a superb 2010 Renacer Enamore was paired exquisitely with butternut risotto with cinnamon beets and goat cheese.
Aside from the lavish dinners and generous tastings, the conference addressed a number of topics specific to blogging. One panel discussed "How Bloggers Influence the Wine World," a topic that could apply to many areas other than wine (such as food, music, politics, technology, etc.). Other panels addressed "The Neuroscience of Wine Tasting," "Social Media," "The Art of Oregon Pinot Noir" and "Biodynamic, Organic, Natural and Sustainable Wine." The Wine Blogger Awards included many winners, among them Evan Dawson for Best Blog Post of the Year ("Why Do I Write About Wine?").
Among the panelists at "How Bloggers Influence the Wine World" was Christopher Watkins, manager of retail sales and hospitality at Ridge Vineyards in Cupertino, Calif. "We try to make wineries believers in blogging," he said. "We're agitators on your behalf." Fans of roots music and Americana may also recognize Watkins as the one-man band Preacher Boy. Read about him here.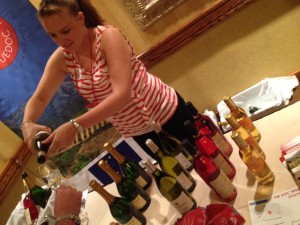 None of these sessions was quite as colorful as the interview with Pickett, who was quizzed by wine blogger Alana Gentry. Pickett was abrasively funny while talking about his screenwriting career and the unexpected success of "Sideways." When he finished the book, his then-wife told him flatly that the novel would ruin his career. "I don't have a career," he responded. Indeed, Pickett was nearly on the skids before the publication of the semi-autobiographical novel, which had been rejected by more than a dozen publishers (to date the book has sold more than 150,000 copies in English).
Pickett also addressed the famous remarks by "Sideways" movie character Miles (played by Paul Giamatti), who gushed about Pinot Noir and derided shoddy Merlot wines. "In (my) next novel, I'm going after the oak-chip Chardonnays," Pickett boasted. At the end of the talk, he tossed souvenir T-shirts into the audience like a rock star. Visit Pickett's website here. And read an interview with Pickett in The Oregonian.
A conference where participants are encouraged to sample hundreds of wines requires pacing, restraint and self-discipline. Tastings often began at 10 in the morning and continued throughout the day and night. Bloggers are accustomed to tasting and spitting, so as to avoid inebriation. But after many hours of this, palate fatigue can slow even the most eager wine enthusiast. Nevertheless, WBC attendees were an intrepid lot, showing up for late-night tastings in private suites that continued into the wee hours.
Next year's Wine Bloggers' Conference will be in Penticton, B.C., one of Canada's top wine destinations. Read more about the 2012 conference here.
Read my post about the 2010 Wine Bloggers Conference in Walla Walla here.