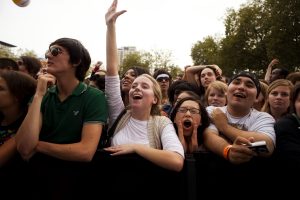 One Reel, producers of the annual Bumbershoot Festival Labor Day weekend, has announced "40 Ways to Celebrate Bumbershoot's 40th Festival" this summer.
In addition to the festival itself — Sept. 4-6 at Seattle Center — One Reel is rolling out a series of summer events, programs and contests highlighting "Seattle's rich history of creating and supporting music, art, culture and community." It's a way of acknowledging Bumbershoot's 40-year history in Seattle and giving back to the city that has supported it.
The "40 Ways" celebration kicks off with a free party at 8 p.m. June 2 at the Hard Rock Cafe. The party includes drink specials, door prizes, giveaways, videos of the 2010 artists and a performance by 2010 Bumbershoot act BOAT. Emcee for the evening is Chris Porter, Bumbershoot's programming director.
Here are other highlights of "40 Ways" from the One Reel office; details can be found at the festival Web site:
A permanent Bumbershoot logo:
For 40 years, Bumbershoot has each year redesigned the event logo, but is now seeking a permanent logo to brand the Festival year to year. This design contest is a chance for fans to create a logo that conveys Bumbershoot's spirit at a glance and will endure for years to come. The winner will receive Gold Passes to this year's Festival, as well as the honor of leaving his or her mark on an iconic Seattle event.
"Strange Powers" at SIFF:
Bumbershoot offers two screenings of "Strange Powers" as part of this year's Seattle International Film Festival. "Strange Powers" traces the work of past Bumbershoot artist Stephin Merritt (The Magnetic Fields), highlighting a 20-year relationship that has led to one of the greatest bodies of work in the American Songbook. Purchase tickets at the SIFF Web site.
Sunday, June 6 at 9:30 p.m., SIFF Cinema
Monday, June 7th at 4 p.m., SIFF Cinema (followed by a Q&A with Stephin Merritt)
Seattle Weekly Happy Hour for Hope:
Seattle Weekly's Happy Hour for Hope, in partnership with 107.7 The End, is a monthly networking event to help raise money and awareness for nonprofits. The June event benefits Bumbershoot's Send-a-Kid program, established by One Reel in 2004 and founded on the core belief that all kids benefit from experiencing art and music. This program helps send under-served youth from our community with an accompanying adult from one of our partner organizations, Art with Heart and Arts Corps.
Wednesday, June 9 at 5-7 p.m., Jillian's on South Lake Union. Free admission. A portion of the drink proceeds benefits Bumbershoot Send-a-Kid program.
Bumbershoot Dance Party at Lo-Fi:
Get your groove on at this Bumbershoot Dance Party featuring Sam Rousso Soundsystem (Ruff Gemz & Corgi Love) spinning favorite tunes from Bumbershoot artists past and present.
Saturday, June 26 at 8 p.m., Lo-Fi Performance Space. Admission: $3.
Umbrella for the Arts: 40 Years of Bumbershoot Artwork:
Visit a retrospective exhibition featuring posters and original artworks created over the last 40 years specifically for Bumbershoot. Claes Oldenburg, Jacob Lawrence, Joe Max Emminger, Barbara Earl Thomas, Faye Jones, Ginny Ruffner, Cheryl dos Remédios and Dawn Cerny are among the dozens of artists whose work has defined Bumbershoot's look.
July 1-September 7
Seattle City Hall Lobby and Anne Focke Galleries. Admission: free.
Silkscreen a Bumbershoot Shirt at the Vera Project:
See the latest gallery show at The Vera Project, "Grip It and Rip It: A Skate Art Show," and silkscreen a Bumbershoot T-Shirt while you're there. These special shirt designs, created specifically for this event, will be available only for a limited time — and only at Vera. Bring your own shirt to screen, or buy one there.
Saturday, July 3 from 3-5 p.m.
Ver(a)rt Gallery at The Vera Project: Seattle Center West (Warren Ave N & Republican St.). Silk-screening is free.
Laff Hole Celebrates 40 Years of Bumbershoot:
Bumbershoot's Northwest Comedy partner, Peoples Republic of Komedy, delivers this edition of Laff Hole wrapped up in a Bumbershoot bow to celebrate the Festival's 40 years.
Wednesday, July 7 at 9 p.m. (you must be at least 21), Chop Suey. Admission $7.
Bumbershoot Edition of City Arts Magazine's "The Song Show":
This is a special edition of the quarterly "The Song Show" event produced by City Arts Magazine and hosted by editor Mark Baumgarten, spotlighting Bumbershoot artists. Get a sneak peak at some of this year's performers in an intimate setting.
Wednesday, July 28, 8 p.m., The Triple Door. Purchase tickets at The Triple Door.
Bumbershoot in "The Round":
An eclectic evening titled "The Round" features songwriters performing their (and each other's) songs, a spoken-word poet (or two) and at least one visual artist added to the mix. The event features a mix of Bumbershoot 2010 artists and will provide an inside look at how Bumbershoot artists collaborate, improvise and create.
Tuesday, Aug. 10, 8-10 p.m., Fremont Abbey Arts Center. Purchase tickets at the Fremont Abbey Arts Center.
For additional information about "40 Ways to Celebrate Bumbershoot's 40th Festival," visit the festival Web site.
Read a review of Katy Perry's concert at the 2009 Bumbershoot festival.