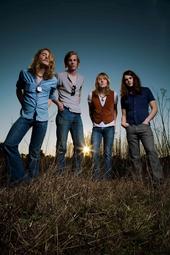 Sound Off! 2010, the Northwest's biggest underage battle of the bands, begins Feb. 13 at the Experience Music Project and Science Fiction Museum.
The Sound Off! series has given a great boost to the underage music community — and has even helped launched careers.
Over the last decade, Sound Off! winners have included such bands as Schoolyard Heroes, The Lonely H, Dyme Def, The Lonely Forest, Idiot Pilot, Mon Frere, Natalie Portman's Shaved Head, New Faces and last year's winner, Dyno Jamz.
This year, a dozen bands will compete. They come from Seattle, Kennewick, Bellingham and Port Coquitlam, B.C.
The first round Feb. 13 includes (Sui-Generis), Apache Chief, Candysound and Sea Fever. A Cozy Kitchen, Hooves and Beak, Pan Pan and The Cat From Hue perform Feb. 20. And Great Waves, SEACATS, Subtle Like A T-Rex and Us on Roofs play Feb. 27.
The finals are March 6 at EMP/SFM's Sky Church. Find links to each band's website with music clips here.
The Sound Off! finals once again include a "wild card" band from the pool of semifinalists chosen by EMP/SFM's Youth Advisory Board, a diverse group of teenage music buffs.
Prizes for the first-place winner will include a performance at the 2010 Bumbershoot festival, a live on-air appearance on KNDD, 107.7 FM, The End's "The Young and the Restless" show and gear from KORG and Epiphone.
The second-place winner will receive a performance slot at the 2010 Northwest Folklife Festival and gear from KORG and Epiphone. Prizes for the third-place winner will include a performance at the Gibson Seattle showroom. All winners will receive a consultation with The Recording Academy.
Each fall, bands and musicians under 21 are encouraged to submit their demos for consideration. EMP/SFM received 130 entries this year, a new record.
Tickets, which go on sale Jan. 18 for EMP/SFM members and Jan. 21 for the public, can be purchased at the box office by calling 206-770-2702. Prices are $10 adults and $7 students or EMP/SFM members.