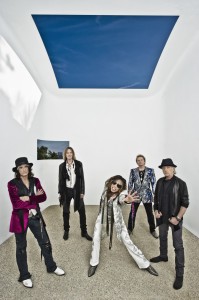 By GENE STOUT
Like a lot of Americans in these perilous times, Aerosmith guitarist Joe Perry wonders about the end of the world.
It has to do with the belief that something — an end, a new beginning — will likely occur on or about Dec. 21, 2012, with the end of the Mayan calendar.
But fears of catastrophe or profound change haven't stopped Perry — No. 2 of the famous Toxic Twins (i.e., he and singer Steven Tyler) — from writing his autobiography, due for release in 2013.
"I don't think it's going to be earth-shaking, cataclysmic stuff," Perry said in a phone interview in advance of Aerosmith's concert Wednesday at the Tacoma Dome.
Perry was referring to the end of the Mayan calendar on Dec. 21 — and not the contents of his autobiography.
Perry and his wife consider themselves "doomsday preppers," making Perry one of the highest-profile entertainers to embrace the concept that the end of the world as we know it may be at hand.
"My wife and I are really into the whole (preparedness) thing, the coming of the apocalypse, whatever," Perry said. "We've been into everything from UFOs to whatever as far back as I can remember."
Aerosmith has dubbed its current concert trek the Global Warming Tour, which plays right into Perry and his wife's beliefs about what may be in store for the world in 2012.
Perry talked about meeting a pair of Mayan priests at an event in Ventura, Calif.
"We got to meet them and talk with them for literally six hours straight," Perry said. "It was very, very surreal. We were talking to the guys who are actually carrying the flame. They are the ones who are interpreting the stuff that's been carved into rocks. And they are the ones who are telling the stories passed from generation to generation to generation. They don't speak English; we had an interpreter and we were able to quiz them. It was fascinating."
Perry said that according to the priests, the effects of the end of the Mayan calendar began to occur more than two decades ago.
"We've seen some pretty hairy things happen around the world. It's stuff that's happened before, but it's happening in a shorter amount of time. There have been cataclysms, volcanoes, earthquakes and tsunamis that have happened all through history. But they're happening with more and more frequency."
Even so, Perry isn't sure what to expect.
"I don't know if it's going to be one of those things where everything's going to line up all of a sudden and — wham! — the earth's going to shift on its axis and we're all going to have to grow fins pretty fast. I don't think it's going to go that way. But I think we're going to see changes. We're just due. We're here for seconds by the celestial clock. The world's just going through its changes. This thing that's happening is pretty monumental. It happens every 20,000 years or so."
For some, it could be a time of renewal.
"The way the Mayan priests put it, the people who are balanced in their energy, it's going to be a positive change," Perry said. "Many people will have a more positive attitude after we go through this period. But it could affect a lot of people in a really bad way if they're not already centered within themselves."
Read the rest of my interview with Perry — who also talked about the reinvigorated band's upcoming album, "Music From Another Dimension" (due in early December) — in the Seattle Times.
And read more about doomsday preppers here.