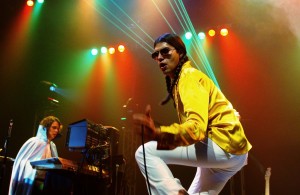 Individual tickets and all-access wristbands for the 2012 Heineken City Arts Fest Oct. 17-20 are now on sale at the official website.
City Arts Fest kicks off Oct. 17 with a performance by David Byrne & St. Vincent at Seattle's 5th Avenue Theatre. The festival continues through Oct. 20, with performances by Ghostland Observatory, Brother Ali, Two Door Cinema Club, Joshua Radin, Collie Buddz, A Fine Frenzy and more at venues throughout Seattle. All access wristbands and staggered performance schedules allow festivalgoers to attend multiple shows on the same night.
The festival's new programming theme, called Urban Arts Adventure, features a curated collection of programs that views Seattle's streets, businesses and buildings as "one big venue, canvas and playground." Programming allows participants to experience the city at non-traditional venues and "secret, unexpected locations."
The festival is expected to draw more than 20,000.