By GENE STOUT
Seattle's Alice in Chains kicked off a tour of the United Kingdom last weekend with the biggest British show in its 25-year career at London's Alexandra Palace.
The tour includes shows Nov. 13 at 02 Academy in Birmingham, Nov. 14 at 02 Academy in Glasgow and Nov. 16 at Newport Centre in Newport. Check the website here for additional information.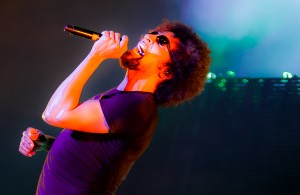 "We're really excited to be returning to the UK for our first headline run in support of the 'Devil Put Dinosaurs Here.' The UK and its fans have always been very good to us," says guitarist Jerry Cantrell.
The tour includes sets by Sweden's Ghost and Seattle-based band Walking Papers, featuring Duff McKagan.
Music photographer John Brott, who divides his time between Seattle and London, shot these photos of the band during its Nov. 9 performance at Alexandra Palace.
Alice in Chains played at the KISW-FM Pain in the Grass festival (which was part of the larger Uproar Festival) in September at The Gorge. Read my interview with drummer Sean Kinney in The Seattle Times here.