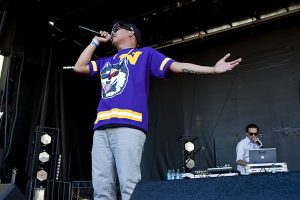 The first Heineken City Arts Festival, created by City Arts magazine, should brighten those dreary autumn days with more than 30 events — most of them musical — at more than a dozen local venues.
The city-wide festival Oct. 20-23 has the potential to become a very big deal. And the timing is terrific: it's booked for the fall and not piled onto a ridiculously overcrowded summer. It reminds me of the Reeperbahn Festival in Hamburg, Germany.
The inaugural lineup features such acts as Belle and Sebastian, Blue Scholars, She and Him, Gogol Bordello, Big Boi, Blitzen Trapper, The Vaselines, Brother Ali, DJ Spooky, Star Anna and the Laughing Dogs, and others. Blue Scholars will headline a big Northwest hip-hop show at the Paramount Theatre.
Among the festival's more unusual events will be the release of photographer Chase Jarvis' "Seattle 100: Portrait of a City," a reading and discussion with playwright Theresa Rebeck, a dialogue on hip-hop and rap's relationship to chamber music with Paul Rucker and Tilson, and a "Guys and Dolls" redux with an ensemble cast of performers, indie rockers and burlesque dancers.
"Fireside chats" will include Amy O, Charles Mudede, Nassim Assefi, Larry Mizell, Marcie Sillman and others.
Creative directors for the festival are Steven Severin and Michael Hebb, who put together an eclectic lineup.
Among the venues will be Benaroya Hall, Paramount Theatre, 5th Avenue Theatre, Showbox at the Market, Showbox SoDo, Neumos, The Crocodile, The Triple Door, McCaw Hall, Chop Suey, Century Ballroom, Town Hall, Intiman Theatre, SIFF Cinema, On the Boards, Sorrento Hotel Fireside Room and NW Film Forum.
Passes priced at $60 and up go on sale Saturday (Aug. 7); get all the details at the festival Web site. Tickets to individual shows will be available beginning Aug. 28.
City Arts is a monthly magazine covering music, arts and urban life in the Northwest.