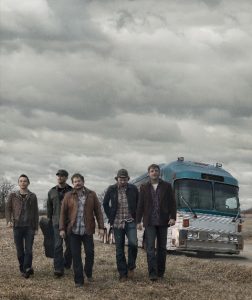 By MIKEL TOOMBS
It's not often that the Tractor Tavern hosts an evening of "straight-up country."
The old-Ballard club leans to more off-center offerings, like country-tinged songstress Tift Merritt, who bowed out of her scheduled show there Saturday (Aug. 7) in order to liven up the David Gray and Ray LaMontagne tour. (That trio will appear Sept. 12 at Marymoor Park in Redmond.)
Stepping in to replace her is said "straight-up country" act Randy Rogers Band. OK, Rogers and company might better be billed as "straight-up country-rock," as if The Eagles had checked into the Hotel Texas.
Southern-rock guitars blend seamlessly with sad fiddles on RRB's upcoming album, "Burning the Day" (it's due Aug. 24 on straight-up country label MCA Nashville), topped by Rogers' affecting vocals on songs like "Last Last Chance" and "Just Don't Tell Me the Truth."
Truth is, the Randy Rogers Band has been winning over local audiences since at least 2006, when it opened for Dierks Bentley at what is now Comcast Arena in Everett. (Incidentally, Bentley, whose impressive new album is the bluegrass-inspired "Up on the Ridge," will bring his Miles and Music for Kids benefit show to Puyallup Fair on Sept. 18. Motorcycles also are involved.)
The other attraction in Everett that evening was hot-as-a-pistol country newcomer Miranda Lambert, who, coincidentally, also returns to the area Saturday (Aug. 7), to perform at 6 p.m. at Snoqualmie Casino's Mountain View Plaza. This is an outdoor show.
If you want to make a night of it (and you're at least 21, plus have money left), the Randy Rogers Band show at the Tractor, 5213 Ballard Ave. N.W. ($12, $15 day of show), starts at 9:30 p.m., with Cody Beebe & the Crooks opening.
Follow this link to the Tractor Tavern Web site.
EDITOR'S NOTE: Mikel Toombs, who writes a weekly music column for the San Diego News Network, is an occasional contributor to GeneStout.com. To read Mikel Toombs' review of Dierks Bentley's 2006 concert, click here.