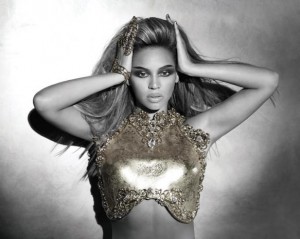 With huge wins by Beyonce and Taylor Swift, it was definitely ladies night at the 52nd annual Grammy Awards.
Beyonce made Grammy history by walking away with six awards, among them song of the year for her R&B anthem "Single Ladies (Put A Ring On It)," making her the most award-bestowed woman in a single night in the history of the show. And Swift won the biggest award — album of the year — for "Fearless."
But Swift embarassed herself with an out-of-tune duet with Stevie Nicks, while Beyonce offered an extraordinary performance
Highlights included a 3-D tribute to Michael Jackson, a duet by Elton John and Lady Gaga, Beyonce's rendition of Alanis Morissette's "You Oughta Know," and an amazing tribute to the late Les Paul by guitarist Jeff Beck and singer Imelda May, who performed a soaring verson of the Les Paul-Mary Ford hit "How High the Moon."
In winning album of the year, Swift edged out Beyoncé, Lady Gaga, the Black Eyed Peas and the Dave Matthews Band. DMB and four other acts associated with the Northwest — Pearl Jam, Death Cab for Cutie, Alice in Chains and Neko Case — were nominated for awards, but didn't win.
Members of the Pacific Northwest Chapter of The Recording Academy watched the the telecast at the Spitfire Lounge on Fourth Avenue while helping to raise money for MusiCares through a raffle of donated items.
Read a list of the top winners from PopEater.com.
Click here to read a critique of the Grammy Awards by rock critic Greg Kot, who writes for the Chicago Tribune.
Here's a video of Beyonce at the Grammy Awards: