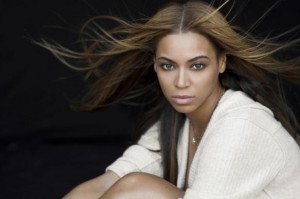 (Editor's note: the following story is also posted at Osmosis-online.com)
BY COLIN POWERS
The Grammys might not have "put a ring on it" Sunday night, but by bestowing Beyonce with some serious precious metal — six trophies to add to the seven she had previously won — the voters behind music's biggest honor showed they're ready for a special lifetime commitment. With apologies to the Kings of Leon's winning "Use Somebody," this trophy haul really was the record of the year — the most awards given to a female solo performer on one night.
With that kind of statement, Grammy voters will now try to hand her an award every time she releases a piece of music. It has been this way in the past with others they have loved dearly: Stevie Wonder, Paul Simon, Alison Krauss, U2. The latter — with their own record, 22 awards for a group — proved how the Grammys' love can fade along with sales. They went home empty-handed Sunday after their latest album underperformed on the charts.
More than ever, the honors are synonymous with commercial popularity. That's why Beyonce's ubiquitous "Single Ladies" was honored as song of the year — I guess it could have been because of its lyrical craft, but let's not kid ourselves — and why Taylor Swift took home album of the year for her top-selling "Fearless." Swift is the youngest person ever to win album of the year, which is fitting for a year in which the ceremony went out of its way to cast off past allegations of stodginess and celebrate youthful musical exuberance. (However, the way Susan Boyle's new year is going sales-wise might result next year in a tribute to middle-aged cat-hoarders with huge voices.)
Of course, the new focus on popular acts is a tactic to ensure a lively live show and resulting rating rewards. So, how was the telecast itself? I'm going to do this sort of like a live blog, except it won't be live and won't be on a blog. I'm simply typing while watching the show on DVR after work — thankfully, with a bottle of wine at my side.
Well, we start off with a paean to the weirdness of Lady Gaga and Elton John (in matching sequined eyewear). Pounding keys together on opposite sides of a piano that looks as if it has been designed as a tribute to fisting, they segue from a Gaga pop hit of the moment to John's timeless "Your Song." Of course, the music — whether ephemeral or indelible — is just a backdrop for Gaga's signature blend of performance art, set decoration and costume design. And in that shimmering, green, angelic ensemble, she looked like the offspring of a seraphim raped by an extraterrestrial. Success? I guess.
From intergenerational oddity to a marketing opportunity. Green Day teamed up with the cast of the upcoming Broadway spinoff of 2004's "American Idiot" to perform a song from their latest album, "21st Century Breakdown." What? I guess it doesn't make sense to play a six-year old song, but why have the Broadway actors there at all if not to plug the musical? That said, "21 Guns" sounded good enough with this "Glee" treatment.
Beyonce comes out flanked by what appears to be her own revolutionary guard. They're dressed as stormtroopers. She sings about wanting to be a boy — is that why she's paying homage to sci-fi geeks? Does she know that she'll be able to have a man put a ring on it only in Massachusetts and a few select states if this anatomical wish comes true? But before she examines the finer points of F-to-M surgery, she turns her attention to an ode to feminine rage, Alanis Morisette's angst classic, "You Oughta Know." From aspirations of becoming a male to hating them — that's some kind of range, though certainly not in octaves.
Leonard Cohen won a lifetime achievement award, but we don't even get an awkward pop-star cover of "Hallelujah." That bites, but it's not surprising seeing as his only Grammy came as a featured artist on Herbie Hancock's "River: The Joni Letters." What a dishonor to our greatest living lyricist. Instead, we get a stripped-down Pink — as in nearly naked, not acoustic — spinning above the stage like a licentious, glitter-adorned trapeze artist on a piece of fabric attached to the world's most ostentatiously decorated crane. I see a bright future for you, Pink — in Circue de Soleil.
Oh, and Loretta Lynn also won a lifetime achievement award. How about pairing this country-music firebrand with Jack White, who produced her amazing 2004 comeback, "Van Lear Rose"? Nope, no room for that. We have to make time for the Black Eyed Peas' epic effort to outweird Lady Gaga. If Gaga teamed up with the Peas they could be a Weirdo Supergroup — that would have been perfect for the Michael Jackson tribute (more on that in a minute). The Pea-ons are attired from some bargain-outlet S&M outiftter while their background dancers seem to be staging "Transformers 3: The Musical" behind them. Their parting remark — "welcome to the future" — is a sad and ominous battle cry. (Confession: "I Gotta Feeling" is kind of catchy).
We get some mediocre country-pop courtesy of Lady Antebellum, then it's on to … Robert Downey Jr. … introducing a bit of culture. Hmmm, I'm listening. Opera at the Grammys? Psych! It's Jamie Foxx and T-Pain. Take that, culture! A caped and heavily Auto-Tuned Foxx is wearing an outfit I can only describe as Civil War general casual while T-Pain rocks a huge, white, curly wig as he faux-conducts an orchestra of gyrating 'hos. At some point, Slash pops out with his trademark top hat and guitar and plays a bit of Guns 'N Roses' "November Rain," because it wasn't quite strange enough already.
Next we have Justin Bieber — shouldn't he be at home in bed and not in immediate peril on a stage near T-Pain and Slash? — being dwarfed by co-presenter Ke$ha (the Grammys love her name so much they play to change theirs to the Grammy$ next year in hopes of increased ad revenues). Justin and Ke$ha remind viewers to vote on what song we want to hear from Bon Jovi. Is "Sound of Silence" an option? Afraid not.
Best New Artist the Zac Brown Band start their performance with "America the Beautiful." Because they're a country band, you know, and that means you have to love your country — or at least talk/sing a lot about how much you love your country. They then perform their own lame song about cold beer, God, stars and stripes, war sacrifice and a dozen other buzzwords for backwoods bozos drooling at their radios.
The show always makes time for one amazing singer, so it's time for … Taylor Swift. Just kidding. Imma let you finish, Taylor, but first I have to point out the atrocities committed against your duet partner, Stevie Nicks, a true legend who 1.) has her ethereal "Rhiannon" butchered by Taylor's vocal contributions and 2.) is forced into the role of backup singer banging on her tambourine on one of Taylor's inane hits. It seems the Grammys won't let a musical legend on the show anymore unless he or she promises to collaborate with some young chart-topper, but the pairing does neither any favors. A classic song is compromised and the lesser performer comes off embarrassed by the comparison. Consider the Jonas Brothers trying to get funky with another Stevie — Mr. Wonder — at last year's ceremony. I hear next year the producers want to have Pavarotti's ghost duet with Miley Cyrus.
Lionel Richie introduces the ballyhooed Michael Jackson tribute — and adds a bit of self-congratulation when he mentions his own contribution to "We Are the World." We don't get that song, however. We get something more even dreadful but lesser known: "Mother Earth," sung by Celine Dion, Jennifer Hudson, Carrie Underwood, Smokey Robinson and Usher in front of 3-D images (you're out of luck if you don't have the glasses) of children playing with butterflies in forests, orcas jumping out of the water and close-ups of Jackson's face, wonders of the natural world and of the surgical suite. It's just the kind of mix of noble pomposity and celebrity hot mess you'd expect from such an endeavor. Afterward, there's a simple and touching moment with Jackson's kids that contrasts with the dull spectacle that preceded it.
It's time for the Bon Jovi song: Which one will they play? Oh, they're playing three songs. Everyone's a winner, provided you have access to a mute button. Truth be told, it's no worse than most of the music that preceded it. It's mediocre, middle-of-the-road rock, but it's lacking the stage artifice the other bands used to disguise their flaws. The fans picked "Living on a Prayer." What a shocker. "We're half-way there." I seriously hope they're not talking about this telecast. I'm living on a prayer the show will be done before my bottle of wine.
Placido Domingo and Mos Def present an award together for rap/sung collaboration. I'm hoping for a little impromptu demonstration from the pair, but it's not meant to be. But we get something even stranger — Andrea Bocelli and Mary J. Blige, singing Simon and Garfunkel's "Bridge over Troubled Water" (the record and song of the year for 1970) as a tribute to the people of quake-ravaged Haiti. It starts out with Bocelli singing in Italian and turns into a vocal battle between the powerhouse performers. The song is so innately beautiful it proves the night's musical and emotional high point, even if it can't touch Annie Lennox's version on "Idol Gives Back" in 2008.
The producers knew it would be hard to follow that act, so they just give us the Dave Matthews Band. Yawn.
The great Roberta Flack duets with the much less-great Maxwell. It's not bad, but it comes off a bit like Saturday night on a cruise ship. Poor Roberta. I'd love to have seen her alone on her haunting "The First Time Ever I Saw Your Face," which won record and song of the year in 1973.
It's time to honor those we lost in the past year. I know I'll miss the Canadian folk legend Kate McGarrigle, who died last month. Jeff Beck pays tribute to the late Les Paul with a serviceable cover of his "How High the Moon."
So, three-and-a-half hours of stars fighting for water-cooler buzz. Yet no Adam Lambert — who, the Los Angeles Times wrote, channeled Colonel Sanders on the red carpet in his "black sequin jacket, black nail polish, glam rock boots and a ribbon tie" — to close the show with androgynous sexual hijinks and steal the blog buzz. Instead, we get a rather banal rap collaboration between Drake and Eminem. What a let-down.
I half-expected Lady Gaga to land on stage in a rocket ship at the end and duet with Bette Midler and Snoop Dogg on a Johnny Cash song, but I guess they have to save something for next year's show. Be sure to invest in a bigger TV because it's obvious this telecast has become more about the eyes than the ears.
(Editor's note: Colin Power was a former Life & Arts editor at the Seattle Post-Intelligencer. He is currently a copy editor and page designer at the Wisconsin State Journal, as well as an occasional blogger about music.)
Here's a video of the Jeff Beck-Imelda May tribute to Les Paul: