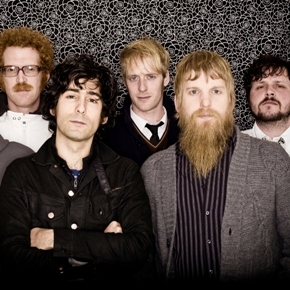 By GENE STOUT
Portland alt-country band Blitzen Trapper, which records for the iconic Seattle label Sub Pop Records, has released a video of its melancholy, introspective song "Girl in a Coat" (from "American Goldwing") via Rolling Stone.
Directed by Daniel Elkayam, the video features drummer Brian Koch and his grandfather, Arthur Koch. Brian Koch, who wrote and produced the video, explains the story behind the video and the genesis of the poignant song:
"Four years ago, I interviewed my grandfather at the age of 96 to talk about his life. I was struck by how, even though so much had become blurry, confused or completely fallen away from his memory, some things remained.
"Girl in a Coat" / Blitzen Trapper
"Just shy of his 100th birthday, Daniel and I began to create a video from my grandfather's perspective, blurring the boundaries of time and space in memory. 'Girl in a Coat,' with its wearied narrative of retrospection, seemed the perfect match for the concept."
The band's "American Goldwing" tour includes several Northwest performances: the Summer Meltown Festival Aug. 10 in Arlington,Wash.; the Doe Bay Festival Aug. 11-12 on Orcas Island and the Bumbershoot festival Sept. 2 in Seattle. The tour also features a performance at the Newport Folk Festival July 27 in Newport, R.I. (The group also appeared at the Sasquatch! Music Festival over Memorial Day weekend at The Gorge.)
After the summer headlining tour, Blitzen Trapper will support Sub Pop label mates The Head and the Heart on a tour beginning Sept. 18 at the Knitting Factory in Spokane.
Read more about Blitzen Trapper on the Sub Pop website.