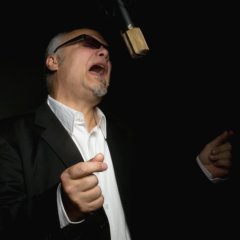 By GENE STOUT
Soul man and harmonica icon Curtis Salgado, an inspiration for John Belushi's "The Blues Brothers," is preparing his new album, "Soul Shot," for an April 10 release on Alligator Records.
The Everett, Wash., native who grew up listening to Fats Waller, Wilson Pickett, Muddy Waters, Count Basie and others in Eugene, Ore., blends R&B, funk and soul with raw, full-throated power. He's also a master of the rich, soulful ballad.
Salgado, who won the 2010 Blues Music Award for Soul Blues Artist of the Year, met actor and comedian Belushi in 1977 while Belushi was filming "Animal House." After watching Salgado's raucous live performances in Eugene and gaining an education in gritty, booze-soaked soul, blues and R&B, Belushi was inspired to create his "Blues Brothers" skit for "Saturday Night Live" and later a movie and album of the same name.
Salgado later began performing with pal Robert Cray in the Robert Cray Band, an association that continued until 1982. In 1984, Salgado became front man for Roomful of Blues and later his own band, Curtis Salgado and the Stilettos.
Serious health problems, most notably lung cancer, nearly sidelined him. But Salgado bounced back with "Clean Getaway" in 2008.
With the upcoming release of "Soul Shot," Salgado is planning to hit the road aggressively. He'll be at Seattle's Jazz Alley April 10 and 11.
For more information, visit the Alligator Records website. Or go to Salgado's website.