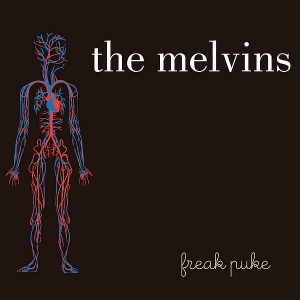 By GENE STOUT
The Melvins — one of the heaviest bands to come out of the Northwest rock scene — is going "lite" with its upcoming, 10-song, Melvins Lite album, "Freak Puke," due June 5 on Ipecac Recordings.
Melvins Lite features founding members Buzz Osborne and Dale Crover in collaboration with Trevor Dunn, a rock and jazz bassist who performs on electric and traditional upright bass. Dunn was the bassist for Mr. Bungle and is a current member of Fantomas. He's also recording the new Tomahawk album.
The Melvins, meanwhile, will release a free EP, "Scion A/V Presents: The Bulls & The Bees," Mar. 13 at ScionAV.com. They'll also be taping an episode of "Last Call With Carson Daly" at their April 13 show at the Troubadour in Los Angeles. And Osborne will join magazine editor, humorist, blogger and political satirist Greg Gutfeld June 28 on Fox News' "Red Eye."
"Freak Puke," recorded by Toshi Kasai and The Melvins in L.A., features such songs as "Mr. Rip Off," "Inner Ear Rupture," "Baby, Won't You Weird Me Out," "A Growing Disgust" and "Holy Barbarians."
The Melvins, as a traditional, grungy, four-piece unit, will launch a spring tour opening April 11 at the Blank Club in San Jose, Calif. Unsane will share the stage. A Seattle date hasn't been announced.
The Melvins formed in 1983 in Aberdeen and Montesano, Wash., but are now based in Hollywood, Calif. Crover onced served as a drummer for Nirvana, playing on the band's "Bleach" album in 1989 (along with Chad Channing).
Visit the band's website here. Or go to the Ipecac Recordings website here.