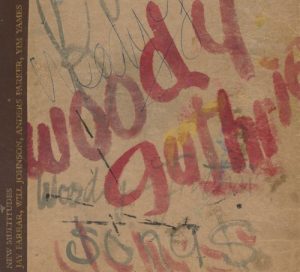 By MIKEL TOOMBS
If you like Woody Guthrie (and isn't it un-American not to?), this band is your band.
Yim Yames (My Morning Jacket front man Jim James' Monsters of Folk alter ego), Jay Farrar (Son Volt), Anders Parker (Varnaline) and Will Johnson (Centro-matic, South San Gabriel) make up New Multitudes, which on Tuesday released a tribute album of the same name, featuring previously unrecorded Guthrie lyrics. (Remember, that formula worked quite well for Wilco, fronted by Farrar's Uncle Tupelo bandmate Jeff Tweedy, and Billy Bragg on the two "Mermaid Avenue" CDs.)
To celebrate, New Multitudes has embarked on a seven-date tour that takes it from, yes, California (San Francisco's legendary Fillmore Auditorium) to the New York island (Webster Hall). Included, happily, is a stop Saturday, March 10, at downtown Seattle's Showbox at the Market.
Opening the show will be the endearing, folk-tinged Texas singer-songwriter Sarah Jaffe, who considers it "such an honor to be playing these dates with New Multitudes," she said after Tuesday's tour opener at the Fillmore.
Jaffe, whose impressive debut album "Suburban Nature" was singled out here (her more electric follow-up, "The Body Wins," comes out April 24), added, "I'm a fan of each one of those fellas individually, and I know the people coming to see these shows are as well.
"So to see them come together and cover a legend like Woody Guthrie is beautiful. I'm having a blast supporting these shows and watching them play their hearts out."
Watch a video of New Multitudes here. Follow this link to the group's website.
(EDITOR'S NOTE: Mikel Toombs is a frequent contributor to GeneStout.com. Read a previous story about Sarah Jaffe here.)