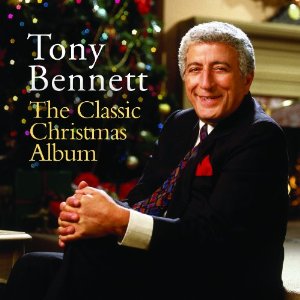 By GENE STOUT
Who's got time to read all those last-minute gift ideas circulating just before Christmas? Most people are too frantic to care. But if you're on the hunt for the perfect traditional Christmas album, look no further than "Tony Bennett: The Classic Christmas Album." The compilation features superb arrangements and production.
The 14-time Grammy winner has picked favorite songs from his holiday catalog, including five tracks from his landmark 1968 album, "Snowfall: The Tony Bennett Christmas Album," arranged and conducted by Robert Farnon and Columbia Records producer Jack Gold (Farnon had collaborated with many stars: Frank Sinatra, Ella Fitzgerald, Sarah Vaughan and others). Among the songs from this album are "White Christmas," "Winter Wonderland," "My Favorite Things," "The Christmas Song" and a medley of "I Love the Winter Weather/I've Got My Love to Keep Me Warm."
Other gems in the 18-song CD are "Christmas in Herald Square" with the Ralph Sharon Quartet, "Have Yourself a Merry Little Christmas," "The First Noel" with tenor Placido Domingo, and "Deck the Halls," "O Little Town of Bethlehem," "O Come All Ye Faithful" and "Silent Night" from sessions with the London Symphony Orchestra and Chorus.
Finally, Bennett reprises songs from his 2008 release, "A Swingin' Christmas," with the Count Basie Big Band. Selections include "I'll Be Home for Christmas," "Santa Claus Is Coming to Town," "Silver Bells" and a full version of "I've Got My Love to Keep Me Warm" with daughter Antonia Bennett.
An added bonus is a previously unreleased version of "What Child Is This."
"The Classic Christmas Album" includes an "Ultimate Access Pass"; insert the CD into your computer to access additional features from TonyBennett.com.
"Classic Christmas" followed the release this year of "Duets II" (featuring Lady Gaga, Aretha Franklin, Josh Groban, Queen Latifah, John Mayer, Amy Winehouse and others) and "Tony Bennett – The Complete Collection," an extraordinary box set that includes more than 1,000 songs.
Bennett, who celebrated his 85th birthday in August, is still going strong. In fact, he's a national treasure — now in his seventh decade of recording and performing live.