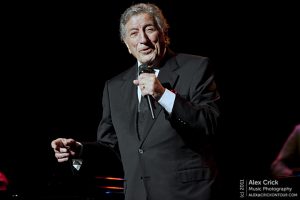 By GENE STOUT
What could be a better Christmas gift for a classic-pop fan than a Tony Bennett concert at Christmastime?
The age-defying, 85-year-old crooner rolled into Seattle for a typically classy — and classic — performance Saturday, Dec. 17, at the Paramount Theatre.
Though the concert was short on Christmas songs — he performed such chestnuts as "I'll Be Home for Christmas" and "White Christmas" before saying, "Merry Christmas, everyone" — it was long on grace and style.
An added treat was an opening set by Bennett's daughter, Antonia Bennett, who sang such songs as "Taking a Chance on Love," "Embraceable You" and George and Ira Gershwin's " 'S Wonderful." She later joined him on stage for a duet of Steven Sondheim's "Hey, Old Friend."
Backing both artists was Bennett's silky-smooth jazz quartet featuring pianist Less Musiker, guitarist Gray Sargent, bassist Marshall Wood and drummer Harold Jones. No flash, just great finesse.
Bennett has been in the news lately for collaborating with pop star Lady Gaga on a duet of "The Lady Is a Tramp" for his recent album, "Duets II." Bennett, who paints, also painted a portrait of Lady Gaga that is being auctioned off to benefit Born This Way, Gaga's anti-bullying foundation, as well as Bennett's arts organization, Exploring the Arts. (Bennett has also released a new holiday album, "The Classic Christmas Album.")
Bennett dedicated a wonderful version of "The Good Life" to Lady Gaga.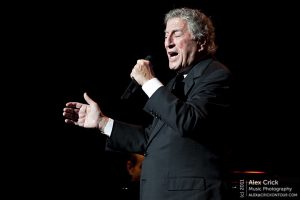 Bennett has been an unlikely hipster since his 1994 appearance on "MTV Unplugged." His class and consistently, as well as his timeless appeal to people of many different ages, has helped sustain an extraordinary singing career.
"Rosemary Clooney and I were the first American Idols," he said with a grin.
Surprisingly slim and fit for 85, Bennett spun on his heels during a sassy rendition of "Who's Got the Last Laugh Now?"
The hits and classics kept coming: "Maybe This Time," "I Got Rhythm," "Steppin' Out," "The Way You Look Tonight," "Rags to Riches," "The Shadow of Your Smile," "Just in Time" and "I Wanna Be Around."
As he often does, he told the story of how Bob Hope shortened his name from Anthony Dominick Benedetto so that it would fit on a theater marquee.
He then offered a version of Hank Williams' "Cold, Cold Heart," a country song that Bennett turned into pop hit in the early '50s.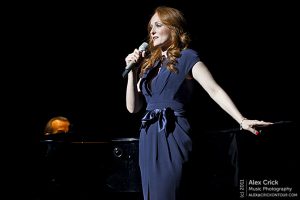 A tender, romantic "I Left My Heart in San Francisco," one of his signature hits, was a special treat. He followed it with "The Best Is Yet to Come," a wonderful tease near the end of the show — and so late in his career.
While you might forgive Bennett, at 85, for not singing his trademark unamplified version of "Fly Me to the Moon," he did so anyway, thrilling the audience with his vocal prowess.
He credited the Paramount for allowing him to perform such a song virtually unaccompanied.
"They don't build theaters like this today," he said to loud applause. "They build filing cabinets."
Photos accompanying this review were taken by Seattle photographer Alex Crick. Visit his website here.