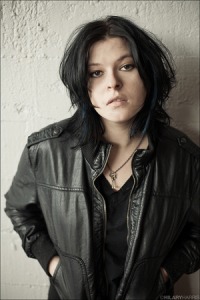 By MIKEL TOOMBS
Star Anna looks more than a bit like Brandi Carlile in her recent photos, but don't let that fool you.
Apart from the tumbleweed connection to Elton John in some of the piano stylings of Ty Bailie, Star Anna & the Laughing Dogs' new album, "Alone in This Together" (out now on Local 638 Records, Rachel Flotard's label), is a raw, rocking experience that bears little comparison to the softer-edged Carlile.
In many ways the recording, sharply produced by Brad Zeffren and the band, takes its cue from the rock-star guitar heroics of Pearl Jam's Mike McCready, who graces ("braces" would be more accurate) three songs, including the riveting, radio-ready title track. (Seriously, the album ends with a "radio edit" reprise of the song.)
Laughing Dog guitarist Justin Davis took over that role Wednesday (July 13) in a noontime concert at Seattle's Waterfront Park, one of a series of free shows the band is performing in the area. Here, the affable Davis provided running commentary as the weather changed from rain to sun: "It's making the wood (decking) steam," he observed. "It's like a smoke machine."
On the new album Davis also supplied the excellent opening and closing songs, "Shine" and "High Water," and co-wrote "For When I Go," a superb showcase for partner Star's soulful side, and the touching, Tom Pettyish "Don't Go Yet."
Here's a link to Star Anna's website. The photo below was taken at a recent Star Anna & the Laughing Dogs concert at Waterfront Park.
(EDITOR'S NOTE: Mikel Toombs is a frequent contributor to GeneStout.com. Read his recent preview of My Morning Jacket here.)