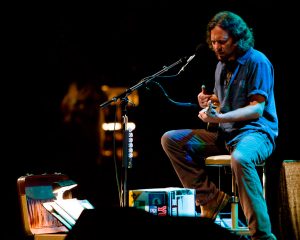 By GENE STOUT
Eddie Vedder was clearly thrilled to be home after a long string of dates on his solo "Ukulele Songs" tour.
Speaking to the capacity crowd at the first of two shows Friday, July 15, at Seattle's Benaroya Hall (the second was July 16), the Pearl Jam frontman said he was "anxious" to do laundry — yes, even rock stars have to do the wash – and reconnect with his hometown fans. He later said that if he didn't already live in Seattle, he'd probably move here.
The view from the stage was apparently a bit overwhelming, even to a seasoned performer who has faced tens of thousands of fans at a single show. But at Benaroya, where concertgoers filled the main-floor seats as well as the many balconies, the view must have been surreal – like a giant beehive of fans.
"If you could be inside my mind for a second, it would blow your (bleeping) mind," he said.
Nevertheless, Benaroya took on the intimacy of a much smaller venue as Vedder shared songs from his new solo album, as well as his first solo album, "Into the Wild," and a variety of Pearl Jam tunes and favorite cover songs. He played ukulele, of course, as well as acoustic and electric guitars and a wooden crate (for foot thumps).
Blessed with a delightfully craggy baritone that would make a reading of the Seattle phone directory enjoyable, the affable Vedder guided the audience through more than two hours of songs that expressed emotions both light and heavy.
He began with "Walking the Cow," as well as "Can't Keep," "Sleeping By Myself," "Without You" and "More Than You Know" from the new album.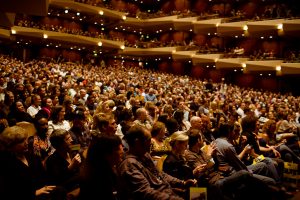 Vedder's affection for the beloved uke was apparent from the start. The tiny instrument of Hawaiian origin (the name translates as "jumping flea") seems to put all players and their audiences at ease, reflecting a softer side of popular music.
Among the famous, the ukulele has been played by Abraham Lincoln, Arthur Godfrey, Walt Disney, Tiny Tim, Don Ho, Ledward Kaapana, Steve Martin, George Harrison, Eric Clapton, Jake Shimabukuro, Israel Kamakawiwo'ole and Eddie Van Halen, to name a dozen. Interest in the instrument has surged in recent years.
Opening act and musical soulmate, Dublin-born Glen Hansard (of The Frames and The Swell Season), joined Vedder on "Sleepless Nights," their duet from "Ukulele Songs," and a number of other tunes, among them Hansard's "Falling Slowly."
Vedder cleverly introduced the song "Rise" (from "Into the Wild") with a reference to a ghastly news report about a woman who cut off her husband's penis and tossed into the garbage disposal, adding that it had been "kind of a bad week for male genitalia."
Aside from Hansard, musical guests included a string quartet (featured on "Lukin" and other songs) and cellist Chris Worswick on "Longing to Belong."
Among my favorite songs in this extraordinary show were "Blue, Red and Gray" (Pete Townshend), a wonderful, upbeat version of "Betterman"; and "Arc," which featured multiple layers of Vedder's vocals – a stunning rendition that took full advantage of Benaroya's acoustics (speaking of acoustics, Vedder's voice wasn't always clear when he spoke, and electrified segments seemed a bit muddy, at least from the middle of the auditorium where I was sitting).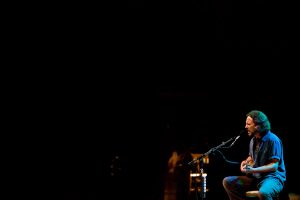 Vedder's spirited encores began with "If You Want to Sing Out, Sing Out," The Beatles' "You've Got to Hide Your Love Away" (perfect for Vedder's rumbling voice) and "Fourth of July." Hansard shared the stage for "Sleepless Nights," "Society" and "Falling Slowly."
The concert came to a delightful close with "Dream a Little Dream," the famous American song (featuring lyrics by Gus Kahn) first recorded by Ozzie Nelson and His Orchestra in 1931.
(EDITOR'S NOTE: Seattle photographer is a frequent contributor to GeneStout.com. Visit Nelson's website here. View one of Nelson's recent photographs of the remodeled Neptune Theatre by following this link.)
(EDITOR'S NOTE: The spelling of cellist Chris Worswick's name was incorrectly spelled in the originial version of this review.)