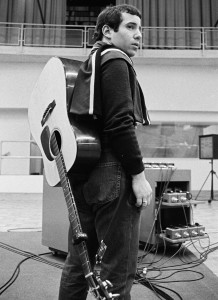 By MIKEL TOOMBS
As he has since at least 1956, when Simon and Garfunkel first became a duo, Paul Simon ponders the mysteries of the music that enthralls him: "Lord, is it Be Bop a Lula," he asks at one point on his new album, "or ooh Papa Doo?"
In fact, the wonderful "So Beautiful or So What" ("You know life is what you make of it/ So beautiful or so what"), released April 12 on Hear Music (the Starbucks label), doesn't move so much to old-school rock 'n' roll.
Rather, it's driven by the rhythm of the saints and of world-beating musicians, picking up where his trailblazing 1986 album "Graceland" left off. (He may be paid for saying so, but in his liner notes Elvis Costello rightly writes that this "record deserves to be recognized as among Paul Simon's very finest achievements.")
The ever-graceful, and grace-filled, "So Beautiful" features a collaboration between Indian and bluegrass musicians ("Dazzling Blue"). And on "Rewrite" renowned Steve Shehan plays the likes of tuned bass djembe, bass talking drum and angklung (an Indonesian bamboo instrument).
Also, Simon's inquiries are generally more in the form of "Question for the Angels," although even that song has some less ethereal musings: "It's Jay-Z" on a billboard, he observes. "He's got a kid on each knee/ He's wearing clothes that he wants us to try."
Much like Jay-Z, Simon makes inspired use of samples. The opener, "Getting Ready for Christmas Day," which also features Edie Brickell (Mrs. Simon) on harmony, is energized by a fiery sermon of the same title delivered 70 years ago by Rev. J.M. Gates. Similarly, "Love & Blessings" is blessed by the presence of the legendary Golden Gate (Jubilee) Quartet, via its 1938 gospel recording, "Golden Gate Gospel Train."
Tickets for Simon's surprise club date at Seattle's Showbox at the Market were gone in an instant (so surprise there). However, at last count 71 seats remained, via Ticketmaster, for his show here at WaMu Theater, where he opens his U.S. tour April 15.
(EDITOR'S NOTE: Mikel Toombs is a frequent contributor to GeneStout.com. Read another recent story about Paul Simon here.)