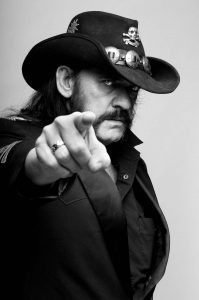 By MIKEL TOOMBS
Will it play in Peoria?
The question dates back to the show business of the 1920s: "If an act did well in Peoria," according to Peoria.com (yes, I know), "vaudeville companies knew that it would work throughout the nation."
In the 2010s, with a new movie featuring lovable rock iconoclast Lemmy Kilmister, 65, the answer to that question is "yes."
"Lemmy: 49% Motherf**ker, 51% Son of a Bitch," which just premiered in Los Angeles (Duff Kagan was there) and will be touring theaters throughout the nation, plays in Peoria even before it make its way to Seattle, where it screens Feb. 4-10 at the Northwest Film Forum. (The DVD arrives Feb. 15.)
Motorhead, the heavy-rocking band the bassist and singer formed in 1975 (currently, Anvil gets a lot of Motorhead comparisons), played a memorable, if sparsely attended, set at Seattle's Memorial Stadium during Bumbershoot 2000. It was, in a word, loud. Or rather, as Lemmy kept demanding, "louder." That day, Motorhead produced perhaps the most distorted (intentionally, that is) sound ever heard there.
For a flavor of vintage Lemmy, click here to watch a 1999 interview. Here's a link to the film's Web site.
(EDITOR'S NOTE: Mikel Toombs is a frequent contributor to GeneStout.com. Read his recent review of X's New Year's Eve show here.)