By MIKEL TOOMBS
There are at least two United States of Americana events to note this week. Just in time for Veterans Day, Charlie Louvin, the surviving half of the the high-harmony brother act The Louvin Brothers that inspired Gram Parsons and Emmylou Harris, and later Alison Krauss, releases probably his last album, "The Battles Rage On" (True North Records).
Louvin, 83, is being treated for pancreatic cancer; Krauss, who recorded a memorable version of the Louvins' "I Don't Believe You've Met My Baby," performed a couple weeks ago at a benefit for Louvin in "historic Bell Buckle," Tenn. (Brother Ira, a heavy drinker, died in a 1965 wreck on the highway.)
Louvin, who spent time at Fort Lewis before he shipped out to Korea (he enlisted in 1945 and then was drafted in '52), no longer is in remarkable voice. However, his unsteady vocals bring extra poignance to his new collection of old war-themed songs, including Merle Haggard's "I Wonder If They Ever Think of Me" and the Louvins' "Mother, I Thank You for the Bible" and "Weapon of Prayer," a duet with Del McCoury.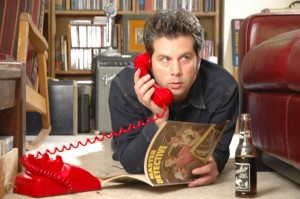 Closer to home, Mark Pickerel, the Seattle singer-songwriter and sometime drummer (The Screaming Trees, anyone?), performs a free show at 7 p.m. Wednesday, Nov. 10, at the Sorrento Hotel, 900 Madison in the First Hill neighborhood.
Do the two have anything in common? We asked Pickerel, who not long ago opened Damaged Goods, a record store (and more) in Belltown (2316 Second Ave.).
"When I moved back to Seattle about five years ago," he said, "my first goal in finding new digs was that my new place must be within walking distance of the Sorrento, so that I could spend as much time as possible there. I found the perfect place just two blocks away but, unfortunately, not only did I spend most of my extra time there but most of my extra money as well!
"I loved the place so much that I insisted that it be the backdrop for my photo shoot for my first Bloodshot (Records) release, 'Snake In The Radio.' It is truly one of the most gorgeous hotels in America, and The Fireside Room where I'll be performing has a charm and old world personality that is nearly impossible to find anywhere in America anymore.
"You could say the same for Charlie Louvin," Pickerel continued. "Charlie's recent return to performing live has been one of the biggest blessings to the roots and Americana world, and to its audience, in the last decade. I've managed to be fortunate enough to see him perform on a couple of occasions and was moved to tears while listening to songs that I grew up hearing so much out in the eastern plains of Washington state as a youngster.
"I will continue to seek him out at every possible opportunity. His voice has changed considerably since those days that he contributed such sweet harmonies and melodies to the Louvin Brothers' signature sound, but he now possesses qualities that are haunting, vulnerable, fragile but with the wisdom of a thousand years."
Read Toombs' 2007 interview feature on Charlie Louvin here. And follow this link to Bill White's review of Louvin's 2007 show at the Tractor Tavern.
Watch a video of the Louvins' "Knoxville Girl" here.
(Mikel Toombs is a frequent contributor to GeneStout.com. Read his recent preview of Auburn duo He Is We.)