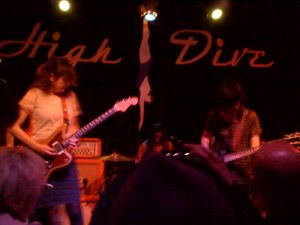 By MIKEL TOOMBS
If you'd flagged the Friday night (Nov. 12) show at the High Dive as merely a two-thirds Sleater-Kinney reunion, you were wildly mistaken.
First and foremost, this sold-out Wild Flag gig (its third ever) provided a rare chance to hear the top chops of ex-S-Kers Janet Weiss, one of the best rock drummers on the planet, and guitarist Carrie Brownstein, ever more versatile in her new band, in a snug Fremont club.
Of course, Brownstein "complained" that the High Dive stage was "too big" (even Eddie Vedder would've found a spot, although he didn't show, as he had for Corin Tucker's Showbox debut last month). The night before, she, Weiss, singer-guitarist Mary Timony and keyboardist Rebecca Cole had "played on a drum riser" to an audience that included four dogs, she deadpanned, "and the four dogs each bought a shirt." (Bellingham is now dressed to the canines.)
A high point of the High Dive set was a tight, blues-rock jam to a Brownstein song that went, "I'm a racehorse, put your money on me." And that, potential "cash and Carrie" jokes aside, was about all there was to the lyrics.
There was an unfinished quality to many of Wild Flag's originals, as if, in Brownstein's quip, "We wrote these songs on stage." The covers were another story.
Weiss got to sing lead on a cover of The Velvet Underground's "She's My Best Friend," while Timony delivered The Standells' "Dirty Water" (Boston, you're her home) and the sweetest version of "Beast of Burden" you'll ever hear. (Some girls.)
Brownstein closed the show by ditching her guitar and going "wild, wild, wild!" on what could've been Quiet Riot's "Cum On Feel the Noize" (a cold and old ears betrayed me), perhaps without the "girls rock your boys" line. (OK, it was actually "Ask the Angels" by Patti Smith, whom Brownstein was clearly channeling. My bad.)
(Editor's note: the above two paragraphs have been corrected.)
Visit Wild Flag's MySpace page here.
(Mikel Toombs is a frequent contributor to GeneStout.com. Read his recent preview of Auburn duo He Is We.)