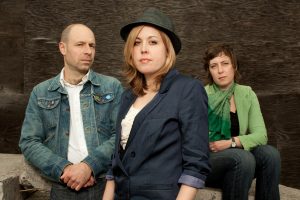 By MIKEL TOOMBS
Punk rocker mom Corin Tucker is the first member of the Sleater-Kinney threesome, Northwest riotgrrrl icons and once the best band in America (just ask celebrated critic Greil Marcus, who knows a thing or two about such things), to issue a solo album.
And although "1,000 Years," out this week on Kill Rock Stars, is credited to the Corin Tucker Band, which also includes Seth Lorinczi (Golden Bears) and Sara Lund (Unwound), it's very much a personal project for the Portland-based singer-guitarist.
Although the album is appealingly rough-hewn, there's a singer-songwriter vibe to "1,000 Years," skirting Nellie McKay territory at one point and closing with the piano-based "Miles Away" (think "A Quarter to Three" from S-K's underappreciated "The Hot Rock").
It turns out that a lone Tucker can be a lonely one, and absence ("I count the days, I count the hours") makes the art grow somber. It's telling that the free download is titled "Doubt."
Somewhat ironic, the melancholy loses its hold on "Half a World Away," which recalls the glories of "One Beat," while the famed vibrato returns on the punk-pop "Doubt" and "Pulling Pieces."
There are other Sleater-Kinney power points of reference here, as well as a continuation of the classic-rock exploration of the final S-K album, the hep to Led Zep "The Woods": "Riley" is a joyous rave-up, and "Dragon" could've come off "Led Zeppelin III."
The Corin Tucker Band performs Friday, Oct. 8, at Seattle's Showbox at the Market (Golden Bears open). Get all the details here.
To read Toombs' review of the final Sleater-Kinney concert, follow this link. And read Toombs' review of Courtney Love and Hole at the Bumbershoot festival here.
Follow this link for a free download of "Doubt."
In related news, former bandmates Carrie Brownstein and Janet Weiss hit town Nov. 12, when their band Wild Flag plays the High Dive in Fremont.