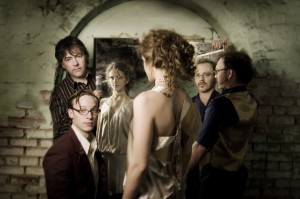 Performing in a spare, ethereal style that might be dubbed "back porch noir," singer-songwriter and claw-hammer banjo player Abigail Washburn is the best reason to arrive early for Saturday's (June 19) performance by Steve Martin and the Steep Canyon Rangers at Chateau Ste. Michelle winery in Woodinville. Washburn and her band take the stage at 7 p.m.
Washburn, who is the opening act for Martin's West Coast tour, will release her third album, "City of Refuge," Aug. 31 on Foreign Children Records. The album was produced by Portland's Tucker Martine, who has worked with the Decemberists, Laura Veirs, Spoon and Sufjan Stevens, among others. Martine's work on "City of Refuge" highlights Washburn's old-time storytelling and sparse, stirring vocals.
The album features a remarkable cast of musicians: fiddler Rayna Gellert, multi-instrumentalist Kai Welch (Washburn's songwriting collaborator), renowned Seattle guitarist Bill Frisell, and guzheng player Wu Fei (guzheng is an ancient Chinese zither). Other studio guests include Chris Funk of the Decemberists and Carl Broemel of My Morning Jacket.
The blend of instruments — particularly Washburn's banjo and Wu Fei's guzheng — create a fascinating mash-up of acoustic-music styles.
Backing Washburn on tour are Gellert, Welch and double bassist Bryn Davies, who collectively create a compelling, old-timey, acoustic folk sound.
After the tour with Martin and the Steep Canyon Rangers, Washburn heads to China for a performance July 5 at the World Expo in Shanghai, as well as tour of the country she calls a second home.
After China, Washburn will perform at Robyn Hitchcock's Strade Blue Festival July 29 in Italy before returning the U.S. for a fall tour.
For more information about Washburn, visit her Web site. And get all the details about Saturday's show here.