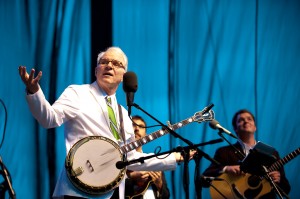 Talk about pickin' and grinnin'.
In a concert Saturday night (June 19) at Chateau Ste. Michelle, Steve Martin (yes, the comedian) and the Steep Canyon Rangers, a bluegrass band from Asheville, N.C., offered just the right combination of expert playing and delightful goofiness.
Even Wally, Martin's yellow lab, got into the act by sniffing around the stage, unimpressed by his master's prowess on banjo and his running comedic commentary.
This was a fun concert. And Martin was a funny guy, hamming it up with jokes and commentary about his second career as a banjo player with a bluegrass band.
"In Hollywood, I tell people I met them in rehab," Martin quipped about the Rangers, whom he actually met in North Carolina, where no rehab was involved.
Dressed in a white jacket, black slacks and a bright-green tie, Martin led the band through a wonderful set of original songs, beginning with "Pitkin County Turnaround," "Daddy Played the Banjo" (featuring vocals by the Rangers' Woody Platt) and "The Crow."
"If you thought that was good, wait'll you've had a third glass of wine," Martin said when the crowd cheered and applauded after the first song.
Surveying the crowd of wine-drinking concertgoers, Martin quipped, "It's like Woodstock for my generation," adding that "there is some bad antacid going around."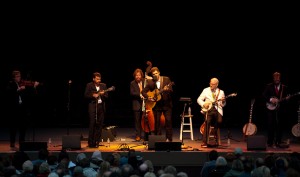 Martin and the Steep Canyon Rangers certainly livened up a gray, windless June evening that was thankfully rain-free until the final moments of the show.
"This evening is about my two favorite things," he said. "Comedy, and charging people to hear music."
Noting that he had four banjos on stage and banjoist Graham Sharp had only a single, "pathetic" instrument, Martin said, "It's just a big ego trip."
Martin acknowledged that his banjo career must seem odd to fans who have enjoyed his comedic talents for years (from "Wild and Crazy Guys" to "King Tut"), as well as his recent role in the movie "It's Complicated." It's like "Jerry Seinfeld writing and performing original music for bassoon," he suggested.
Though Martin is a fine banjo player who has loved playing the instrument for decades, he left much of the heavy lifting to the five-member Steep Canyon Rangers — Platt, Sharp, mandolinist Mike Guggino, double bassist Charles R. Humphrey III and fiddler Nicky Sanders. (Martin and the band will record their first album together in the coming year.)
Martin joked that he and the Rangers had no hits, "but 'Candle in the Wind,' that was a big one for us."
Among the highlights was the Rangers' beautiful four-part harmony vocals on the old spiritual "I Can't Sit Down," followed by a Martin's performance of "the atheist hymnal," actually a single page featuring the lyrics to "Atheists Don't Have No Songs." (Atheists have a rule, he said: the "h" in "him" is always in lower case.) The Rangers then joined Martin in vocal harmony, though Martin was the only one who sounded shrill.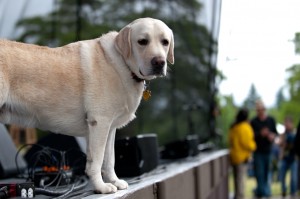 Wistfully, Martin noted that the band traveled by tour bus, where everyone played cards, chatted about the show, told jokes and relaxed.
"I know this goes on because they tell me about it when I call from the private plane," he said.
Indeed, Martin had a fairly cushy role in the show; he wasn't exactly working like a rented mule. His style was relaxed and easy-going, though his playing was often first-rate.
Martin poked fun at Wally the lab, while fiddle player Sanders made barking and whining noises with his fiddle. It was a prelude to "Wally on the Run," but the dog's only contribution was a bit of tail-wagging.
The main set concluded with "Jubilation Day," "Saga of the Old West" and "Calico Train," featuring Platt on vocals.
A three-song encore included the delightful "Go Away, Stop, Turn Around, Come Back," as well as a suberbly executed "Orange Blossom Special" and a delightful bluegrass version of "King Tut" that sent concertgoers home with wide grins.
Opening act was newcomer Abigail Washburn, who plays banjo in the claw-hammer style. She sang in a spare, breathy style that recalls singer-songwriter Laura Veirs. In fact, Tucker Martine (who has worked with Veirs) produced Washburn's new album, due in late August.
Washburn and her three-piece band played the title song, "City of Refuge," as well as a number of other stirring tunes from her repertoire. Washburn is a great storyteller and tunesmith whose coffeehouse sound was a bit underpowered for such a big venue.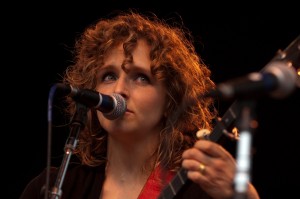 But her upcoming album and subsequent tour should be well-received by audiences more receptive to an entirely new artist with great chops. Her career holds a lot of promise.
To read a preview of Washburn's show at Chateau Ste. Michelle, follow this link.
The photos in this review were taken by Seattle photographer Jim Bennett. Visit his Web site to see more of his photography.
What did you think of the concert? You can post a comment below.
For a list of other upcoming concerts at Chateau Ste. Michelle, follow this link. And here's a link to the Steep Canyon Rangers' Web site.