BY MIKEL TOOMBS
Hailed by Paste magazine as a "Best of What's Next" for her "beautiful, raw songs" that play like "wise, witty diary entries tinged with teardrops, growing pains and effusive honesty," Sarah Jaffe has created perhaps the most affecting debut album by a female singer-songwriter since Star Anna's "Crooked Path."
But where Star's music reflected her upbringing in rural Ellensburg, Jaffe's path has a more, to cite the record's title, "Suburban Nature."
"I grew up in really small country suburbs all over Texas," the Denton-based Jaffe, 24, said last week from San Diego, where she was starting a tour supporting indie stalwart Lou Barlow (of Sebadoh) and the Missingmen. The two perform at 8 p.m. Monday (June 21) at the Tractor Tavern. Tickets are $12 ($14 at the door).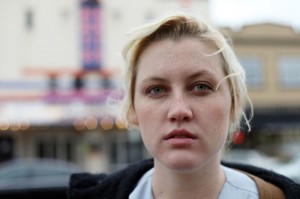 On her song "Watch Me Fall Apart," which provides Jaffe's album title, "I was basically talking about this type of personality that segregates themselves and gives off this illusion that they don't want to be needed," she said. "And I just wanted to tie that in with my physical surroundings growing up, and how the two kind of go together.
"There's a lot of mystery in suburbs, I think. All these lives happening in similar houses right next to each other."
There's plenty of mystery on the atmospheric "Suburban Nature," a good deal of which was recorded, by Grammy-nominated producer/engineer John Congleton (he's worked with Explosions in the Sky, Modest Mouse and many others), in an old funeral home.
"Well, there's actually so much charm in this building. It definitely has an energy about it, but it's in no way a dark energy," Jaffe explained. "I was very familiar with the space, since I had recorded my EP (the six-song "Even Born Again") there a couple years prior. I actually found it to be really warm. I recorded the full-length there half the time with John Congleton, and the other half in a studio in North Dallas where Congleton was spending some of his time."
"Suburban Nature" is very much a string-driven thing, which adds to its sometimes eerie quality: "I'm usually always playing with strings," Jaffe said. "Whether it be a violinist or a cellist, I personally believe there can never be enough strings."
There's no mystery, however, as to the main appeal of Jaffe, who recalls Canadian neo-folkie Sarah Harmer and, on a couple of her moodier songs, British folktronica chanteuse Beth Orton. ("I own two songs by her, and those are the only two songs I've ever heard by her," she said of Orton. "I love those songs, though. Wonderfully unique voice.") Her emotionally direct lyrics almost always strike a nerve, as might be expected from titles like "Watch Me Fall Apart" and "Vulnerable."
"Most of the time, I feel pretty logical," she said. "There are just some days that I operate on a more emotional level, when my emotions are very much on the surface, which is a vulnerable state to be in. Those are usually the days when a song happens, or when I want to write."
Among Jaffe's more endearing efforts is "Clementine," a "lullaby for adults" picked last week as an NPR "Song of the Day."
"I've always loved the name," Jaffe said. "But I actually wrote "Clementine" for this band I was in at the time called Tomahawk Molly, about four years ago. We were a new band and we were going to have our first show one night, and we didn't have enough songs.
"So I wrote "Clementine" as a filler song in about 15 minutes in my friend's dorm room in Arkansas. I was completely detached from this song for a very long time and when people latched on to it, I was almost bitter about it, because I had spent the least amount of time on it. Now, I find a lot of meaning in it and it's one of my favorites to sing live."
To read the Paste article about Jaffe, click here.
Follow this link to Jaffe's MySpace page.
And read Mikel Toombs' review of the recent Rosanne Cash concert here.