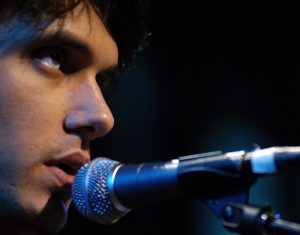 Despite a mouth that often gets him into trouble, John Mayer has won seven Grammy Awards, sold more than 12 million albums and earned a reputation as an extraordinary musical artist.
Several years ago, Time Magazine included Mayer on its "Time 100" list of the most influential artists, entertainers, thinkers and cultural icons of our time.
The singer, guitarist and songwriter apologized for using the "N-word" in a interview in the March issue of Playboy in which he talked about his penis, his love of porn and his relationships with Jennifer Aniston and Jessica Simpson. He described Simpson as "sexual napalm." You can read the Playboy interview here.
Mayer's current tour include songs from the "Battle Studies," his fourth album.
Mayer and Michael Franti & Spearhead perform at 8 p.m. Wednesday (March 31) at KeyArena. Tickets are $36.00, $51.00 and $76.00 at Ticketmaster or by phone at 800-745-3000.
Here's a review of one of his recent concerts from the Baltimore Sun.
Watch a video of "Who Says" here.